Welcome to Renner Writes
Renner Writes showcases books written by author, Barbara Renner. Barbara understands the importance of reading and wants to make a difference in children's lives. As a guest author, Barbara reads her books to preschool and elementary school classes. Lessons that teach children creativity and critical thinking skills are part of her presentations.
---
Quincy the Quail Leads His Family on an Adventure
Quincy the Quail is a little clumsy, and his topknot falls in front of his eyes, but that doesn't stop him from leading his family on adventures around their home in the desert. When a sudden rainstorm interrupts their hunt for food, Quincy finds himself in trouble. Discover who rescues Quincy so he can continue being a good leader for his family.
Audio QR codes allow the reader to hear quail calls and owl hoots using a QR Code Reader App. This picture book is appropriate for ages 3 – 7 and is educational as well as entertaining. Illustrated by Amanda Wells.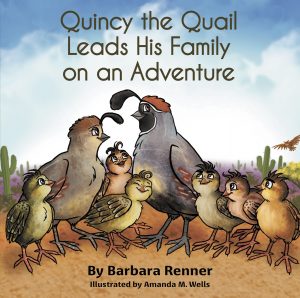 Purchases can be made through the Pricing tab.
---
Wholesale and Consignment terms available for all books.
Call 480-448-1112
---
Lonnie the Loon Learns to Call, pages 15 & 16
Using a free QR Code Reader App on a smart phone or other device, the reader can hear Lonnie's dad yodel.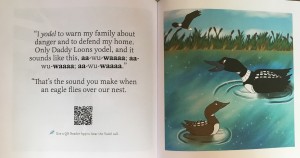 Four different Loon calls can be heard in this book.
---
Barbara's books have five-star ratings from Readers' Favorite.
Read the reviews here.

---
 

Quincy the Quail books can be found in the following gift & book stores:
Peregrine Book Company, Prescott, AZ (928-445-9000)
Website

North Mountain Visitor Center, Phoenix, AZ (602-335-1962)
Lonnie the Loon books can be found in the following gift & book stores:
Dorset Books, Dorset, MN (218-255-0179)
The Island Bookstore, Mackinac Island, MI (906-847-6202)
Website

Beagle and Wolf Books & Bindery, Perham, MN (218-237-2665)
Website

Tamarac National Wildlife Refuge, Rochert, MN (218-847-2641)
Website

Annie Bloom's Books, Portland, OR (503-246-0053)
Website

The Shop at Dunvilla, Pelican Rapids, MN (218-384-1910)
Riverview Place, Pelican Rapids, MN (218-863-4040)
Website

Karen's Korner, Pelican Rapids, MN (218-280-5928)
The Back Porch, Perham, MN (218-346-7844)
Roger & Barb at The Backyard Station, Frazee, MN
---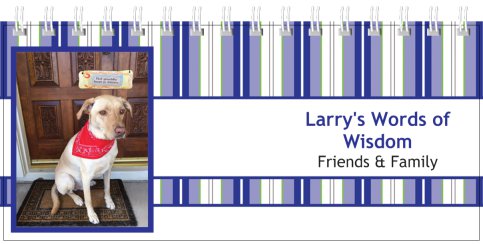 Larry's 2017 desk calendar features photos of fur-friends, and fur-family.
Every month includes Larry's inspirational words of wisdom.