Welcome to Renner Writes
Renner Writes showcases books written by author, Barbara Renner. Barbara understands the importance of reading and wants to make a difference in children's lives. As a guest author, Barbara reads her books to preschool and elementary school classes. Lessons that teach children creativity and critical thinking skills are part of her presentations.
---
Coming Soon…
Quincy the Quail Leads His Family on an Adventure
Quincy the Quail is a little clumsy, and his topknot falls in front of his eyes, but that doesn't prevent him from leading his family on an adventure through the desert. The reader is able to hear quail calls and owl hoots. Illustrated by Amanda Wells.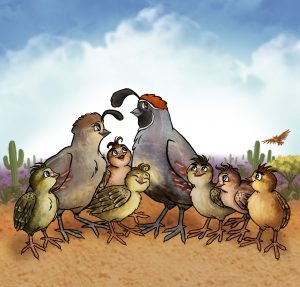 ---
Lonnie the Loon Learns to Call, pages 15 & 16
Using a free QR Code Reader App on a smart phone or other device, the reader can hear Lonnie's dad yodel.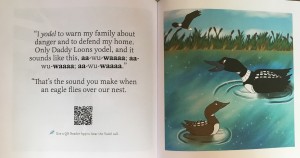 Four different Loon calls can be heard in this book.
---
Lonnie the Loon books have five-star ratings from Readers' Favorite.
Read the reviews here.

---
 Lonnie the Loon books can be found in the following gift & book stores:
Dorset Books, Dorset, MN (218-255-0179)
Summerhill Farm, Park Rapids, MN (218-732-3865)
Website

Beagle and Wolf Books & Bindery, Perham, MN (218-237-2665)
Website

Tamarac National Wildlife Refuge, Rochert, MN (218-847-2641)
Website

Peregrine Book Company, Prescott, AZ (928-445-9000)
Website

Annie Bloom's Books, Portland, OR (503-246-0053)
Website

St. Mary's Gift Store, Detroit Lakes, MN
The Shop at Dunvilla, Pelican Rapids, MN (218-384-1910)
Riverview Place, Pelican Rapids, MN (218-863-4040)
Website

Karen's Korner, Pelican Rapids, MN (218-280-5928)
The Back Porch, Perham, MN (218-346-7844)
Roger & Barb at The Backyard Station, Frazee, MN
---
Order your 2016 Larry's Words of Wisdom desk calendar NOW
Calendars are only $8.00 plus postage
Every month in 2016 will bring you joy when you see Larry's sweet face and read his inspirational words of wisdom.