Writing has always been an activity that Barbara has enthusiastically pursued. She has written numerous articles for business education newsletters and journals, as well as edited and written for a variety of newsletters. Currently she is writing picture books for children ages 2-7. Her Informational Fiction books contain interesting facts, sounds, and lessons to ponder. She believes that learning begins at an early age – and never ends.
Barbara and her husband have lived in Arizona for over 40 years where they raised their daughter and son. In the summer, they visit Minnesota to escape the desert heat and enjoy a different landscape of lakes and cornfields. Barbara became fascinated by Minnesota's state bird, the Common Loon, and wanted to share information about these unique aquatic birds with children. That's why she wrote a series of picture books about Lonnie the Loon.
The Gambel's Quail are unique to Arizona and run around in Barbara's Phoenix neighborhood. Their beautiful plumage and quaint mannerisms prompted Barbara to write a series of picture books about Quincy the Quail. Quincy is a unique character who is a little clumsy but is loved and revered by his family as a leader.
During one of Barbara's visits to the Tamarac National Wildlife Refuge in Minnesota, she learned about Trumpeter Swans. Once on the endangered species list, they can now be seen in most states across the northern part of the United States. Barbara has written two entertaining picture books about Trumpeter Swans that are based on facts.
LARRY'S WORDS OF WISDOM
For the past seven years, Barbara created desk calendars with photos of her yellow lab mix, Larry, and his words of wisdom. She gave these calendars to friends and family.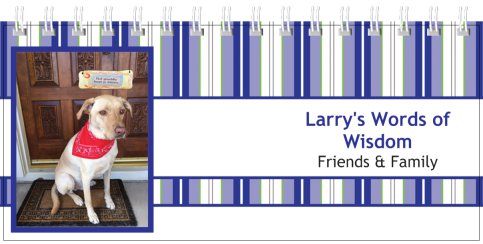 She is now working on a book called "Larry's Words of Wisdom" that will include some of his famous poses as well as trivia and interesting information about dogs.
The book will be available the end of 2020, and a portion of sales will be donated to the Arizona Labrador Retriever and Giant Breed Rescue.
MEMBERSHIP AFFILIATIONS
Scottsdale Society of Women Writers
ILLUSTRATORS
Trumpeter Swans Books
Quincy the Quail Book Series
Lonnie the Loon Book Series