SUMMERTIME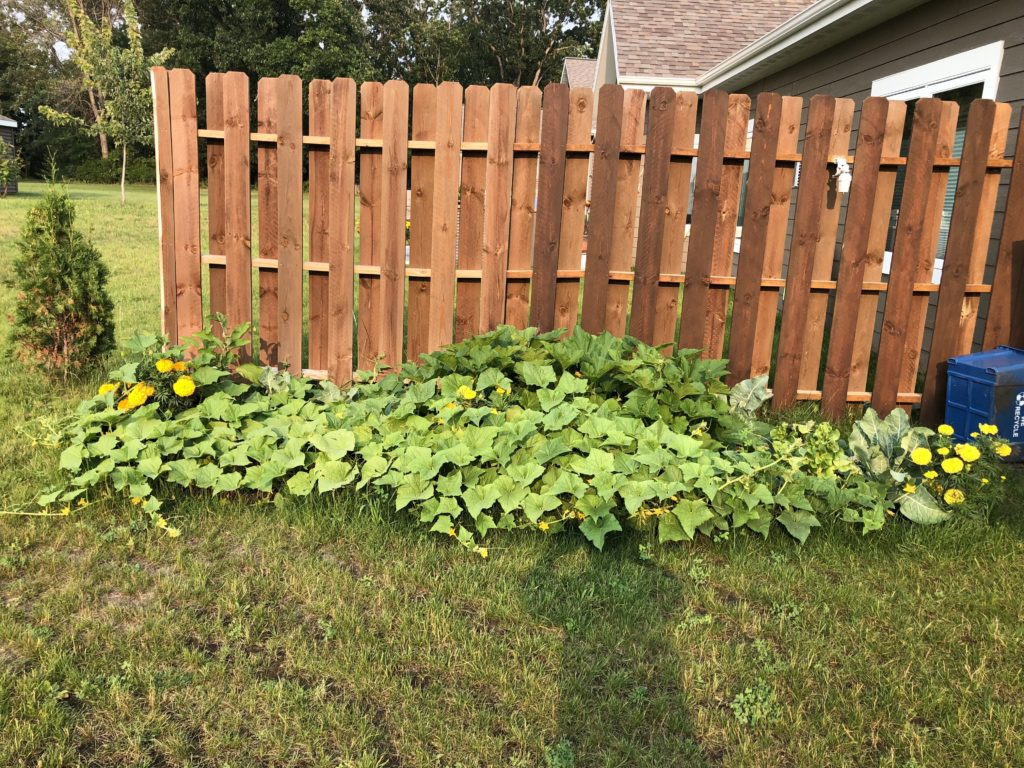 It's summertime, and you all know what that means, fresh veggies from your garden. What? You don't have a garden? There's nothing like digging in the dirt and plucking fresh carrots from the ground yourself – that is if the rabbits don't get them first. I've tried gardening, and this is how my gardens grow.
MINNESOTA GARDENING
There is a reason Minnesota grows tall corn, an abundance of soybeans, and acres of sugar beets – it's all in the dirt – dark, rich, soil that was deposited from glacier sediments. Lester is the official Minnesota state soil – yes, states actually have state soils, like birds and flowers.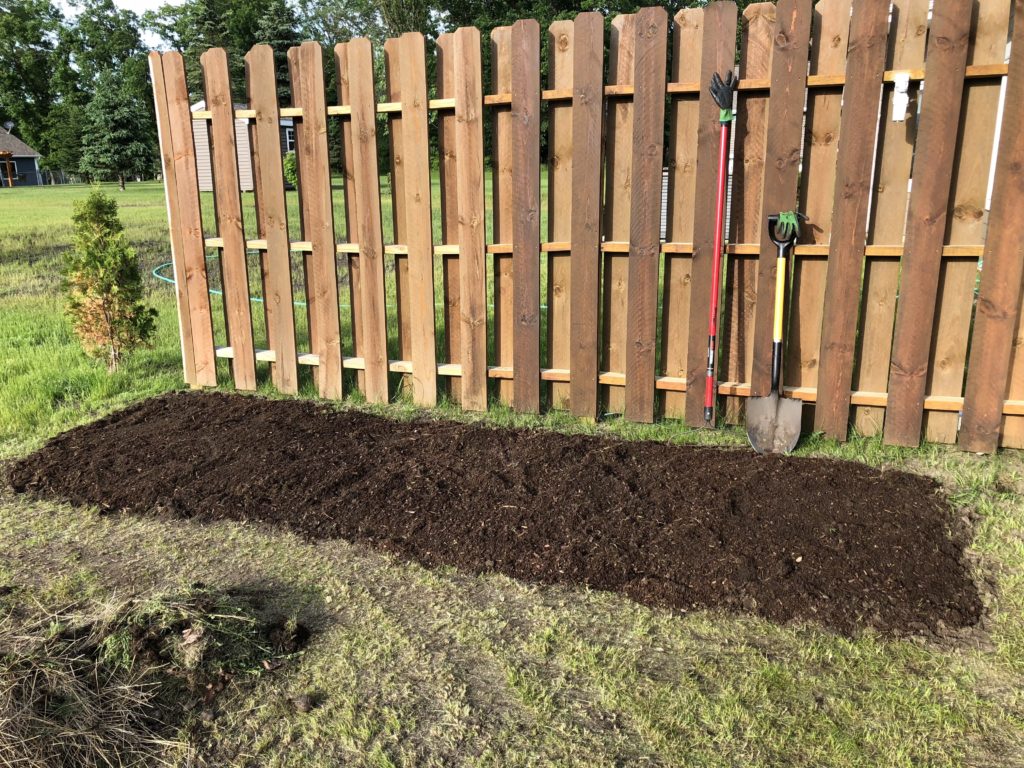 Hubby and I had a summer home in Minnesota for the last nine years. It was just two summers ago that we had a large enough backyard to plot out a garden. Being a city girl, I decided to try my hand at gardening. I bought a shovel and dug my plot – I think perhaps the neighbors thought I was fixing a special arsenic-laced cocktail for my hubby and preparing for the disposal of the body.
The Midwest doesn't have fences or walls around their yards, so everything you do in your backyard is open for scrutiny. But that's another blog.
I'll be honest, when I first saw a little cucumber hiding under the leaves, I was thrilled. I actually birthed a tiny, living vegetable. I soon discovered, however, that Peter Rabbit had his eye on my lettuce and was enjoying midnight snacks. I had to cover that part of the garden with plastic bins every night.
Then there were the invisible worms. Invisible, that is, until I brought the broccoli in to wash. The worms are in fact green, and were camouflaged in the florets. I'm sure a few of the little critters hid so well that I enjoyed a little protein with my veggie salad.
It was the zucchini that multiplied as fast as the bunnies. I couldn't harvest them quickly enough, and if I missed one, it would be the size of a watermelon the next day. Hubby ate every recipe in the book: stuffed zucchini, zucchini bread, zucchini cake, sautéed with tomatoes, stir fry. I started giving them away to the neighbors, until they told me "no more." Then I would lay one on the doormat, ring the doorbell, and run.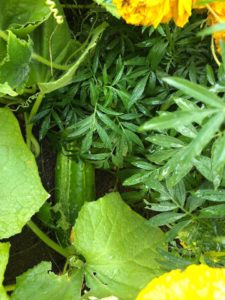 ARIZONA GARDENING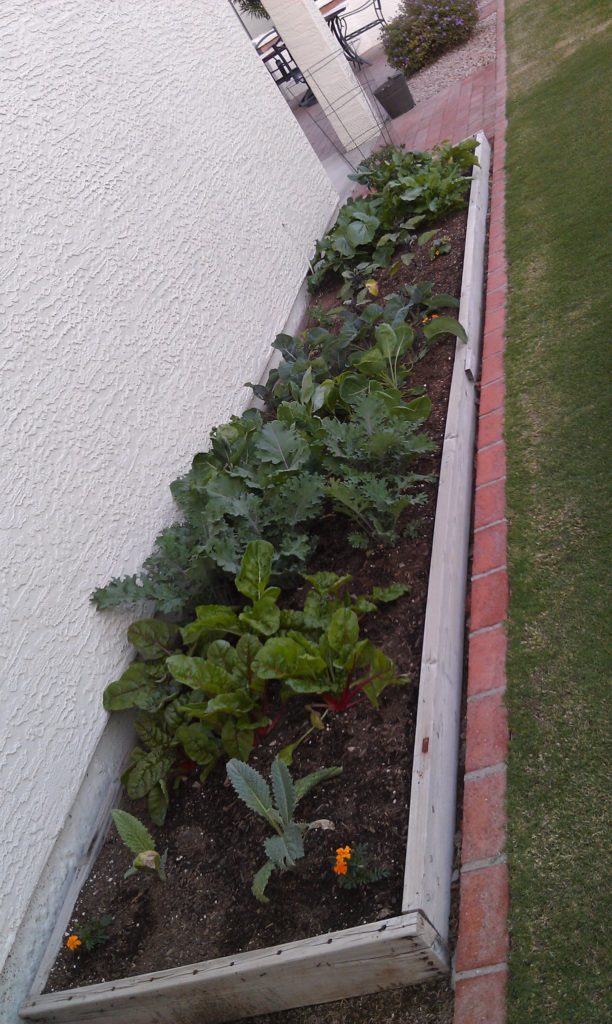 I was so excited about gardening, I thought I would try my hand at a winter garden at our home in Arizona. We even brought back several buckets of Lester to mix in with the desert salty, clay dirt. I looked it up, and Arizona's state soil is Casa Grande, named after the National Monument.
The ground is so hard, my carrots only grew to the size of peanuts. The garden did produce a lot of Swiss chard and kale. Yum, health food. Except hubby didn't like kale. I tried cooking that several ways too, even drowning it in vinegar. But when the baked chips came out like a well-chewed rawhide toy, I decided it was time to turn the harvest over to my vegetarian daughter.
By the way. Does anyone know where the Brussels Sprouts grow? From the looks of the picture, I'll be harvesting 6 Brussel Sprouts. But, no, I had to Google that. The actual sprouts grow along the stem. Imagine my surprise when I knelt down and discovered all the little sprouts in a row on the stem. Another surprise was the purple cauliflower.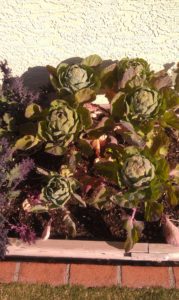 TODAY'S GARDEN
We sold our summer home in Minnesota, so no more big gardens for me. My daughter has luck growing veggies in a pot, so I bought a cucumber plant and an eggplant plant – so redundant – and carefully potted them in two pots – pretty pitiful, right? They started out great, with little flowers and buzzing bees. But the first 108-degree day fried the cucumber leaves brown and the poor little thing coughed its final breath. I held a burial and replaced it with vinca flowers. They like the heat. I harvested one eggplant. Maybe I'll have a dinner party.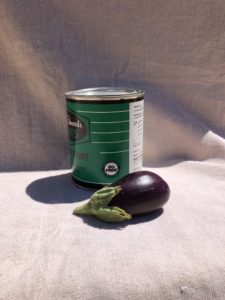 WHERE'S THE FOLLOW BUTTON?
I'm sure the multitudes reading this now are looking for the Follow Button so they won't miss out on any future blogs. I tried, believe me, I tried. I set up a MailChimp account and studied how to copy and paste the html code to my website, but it did not compute – in my brain, that is, not the computer. I'm an English major, not an engineer, and it takes my brain matter a little extra time to absorb all this technology jargon. So, hopefully by next week you all can press a little Follow Me button and be kept in the loop.
BOOKS FOR SALE
I don't have any books about gardening, but I do have books about birds, is that close enough? Birds fly around gardens. All my books are discounted to $9.99 each if you buy them from my website. I'll personalize and sign each and every one and mail them to you as soon as I can.