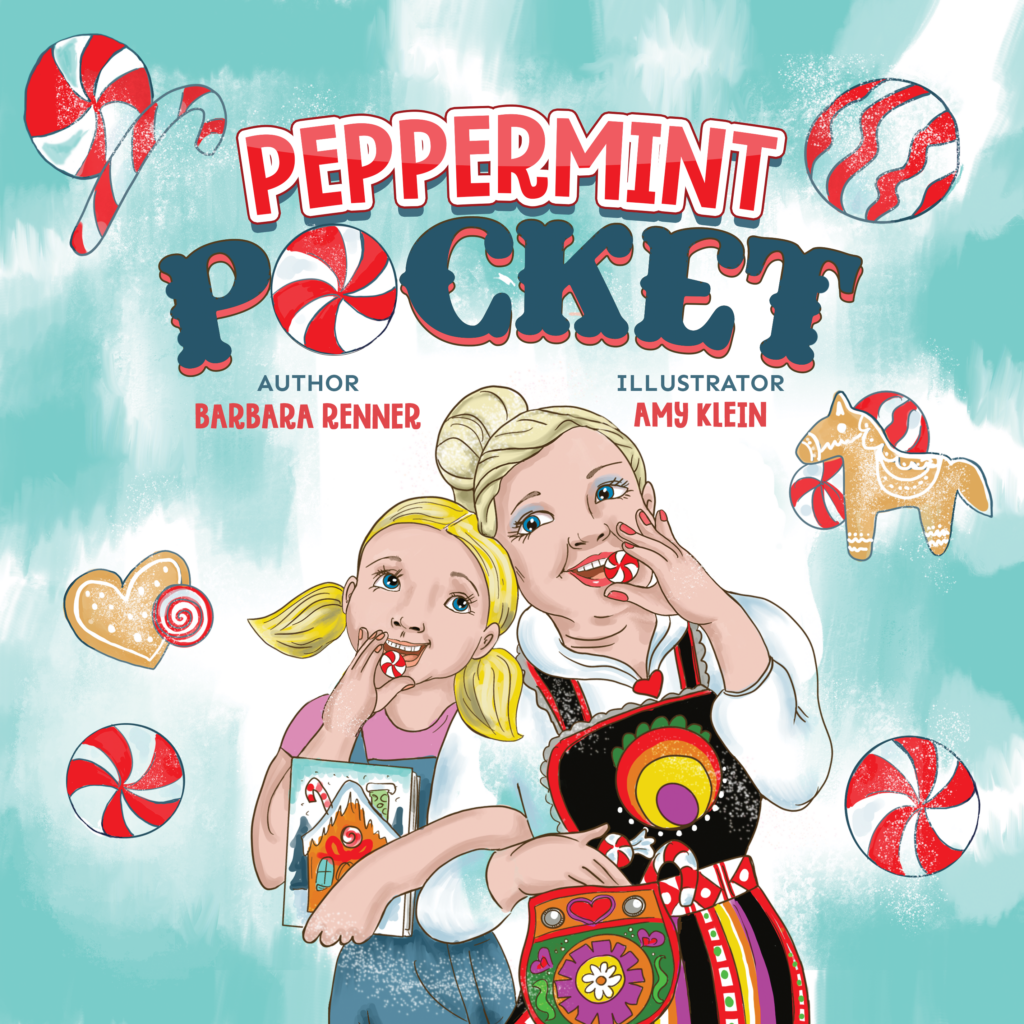 Reviewed by Melinda Facal for Readers' Favorite
Peppermint Pocket is a beautiful children's picture book by Barbara Renner with illustrations by Amy Klein. This delightful story is filled with warm family memories, traditions, and gorgeous brightly colored illustrations. Dorothy Dot is a young girl who loves spending time with her grandmother. Nana always has a peppermint in her apron pocket to share with her grandchildren. The two read and reminisce together while learning how much they have in common. The special bond between families is conveyed as Nana and Dorothy enjoy each other's company and discuss fun memories of baking and playing. A festive recipe for the holiday season is included along with space for young readers to add their family memories. Children will have fun recalling or learning about their ancestors' experiences.
Barbara Renner's Peppermint Pocket is a cozy book filled with joy and nostalgia. As families read this enchanting tale together, they will be encouraged to reflect on memorable moments and beloved family traditions as well as stories that have been passed down through the generations. Vivid illustrations throughout enhance this uplifting story. Young readers will enjoy hearing this heartwarming tale and may be reminded of adventures and experiences with their grandparents. Nana and Dorothy Dot's close and loving relationship demonstrates the significant connection between grandparents and grandchildren and highlights the similarities often shared among family members. The wonderful recipe that is included may inspire families to bake together and explore foods that are unique to their family heritage. This is a highly recommended read.
---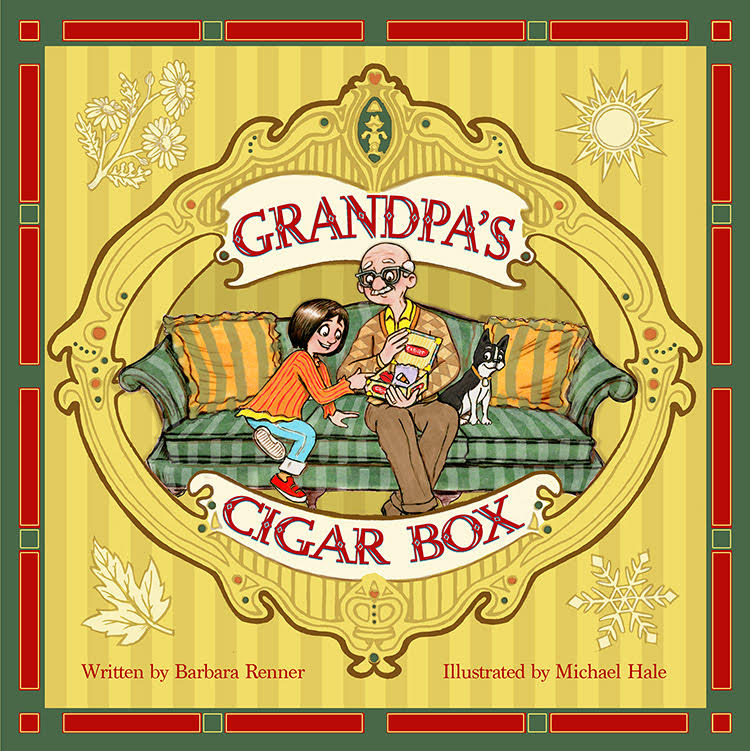 Reviewed by Tiffany Ferrell for Readers' Favorite
In Grandpa's Cigar Box by Barbara Renner, we are introduced to a little girl who loves visiting her grandpa. Every time she visits, depending on the season, her grandfather has treats and ideas for games that he places in his old cigar box to surprise his granddaughter. In the springtime, they eat marshmallow bunnies and plant flowers. In summer they eat gumdrops and go swimming, and then in the fall they eat candy corn and make jack-o-lanterns. In the winter through, something isn't quite right. When she comes to visit her grandparents, her grandpa isn't there with his cigar box ready. That's when she learns that he is sick and is resting in bed. She decides to switch places and puts a candy cane and coloring books in the box so she and her grandpa can have a treat and do an activity where her grandfather can stay in bed and rest.
I thought Grandpa's Cigar Box was an adorable read. Many kids find spending time with their grandparents as fun and a break from their normal home routine. For an older reader like myself, it brought me back to my childhood when I would wander next door to my grandma's apartment. I loved being there and this book brought back those nostalgic feelings. This is a book both children and adults can enjoy. The illustrations are also beautifully done and they fit perfectly with the storyline. Barbara Renner has done a wonderful job with this book and I can't wait to read more of her works in the future.
---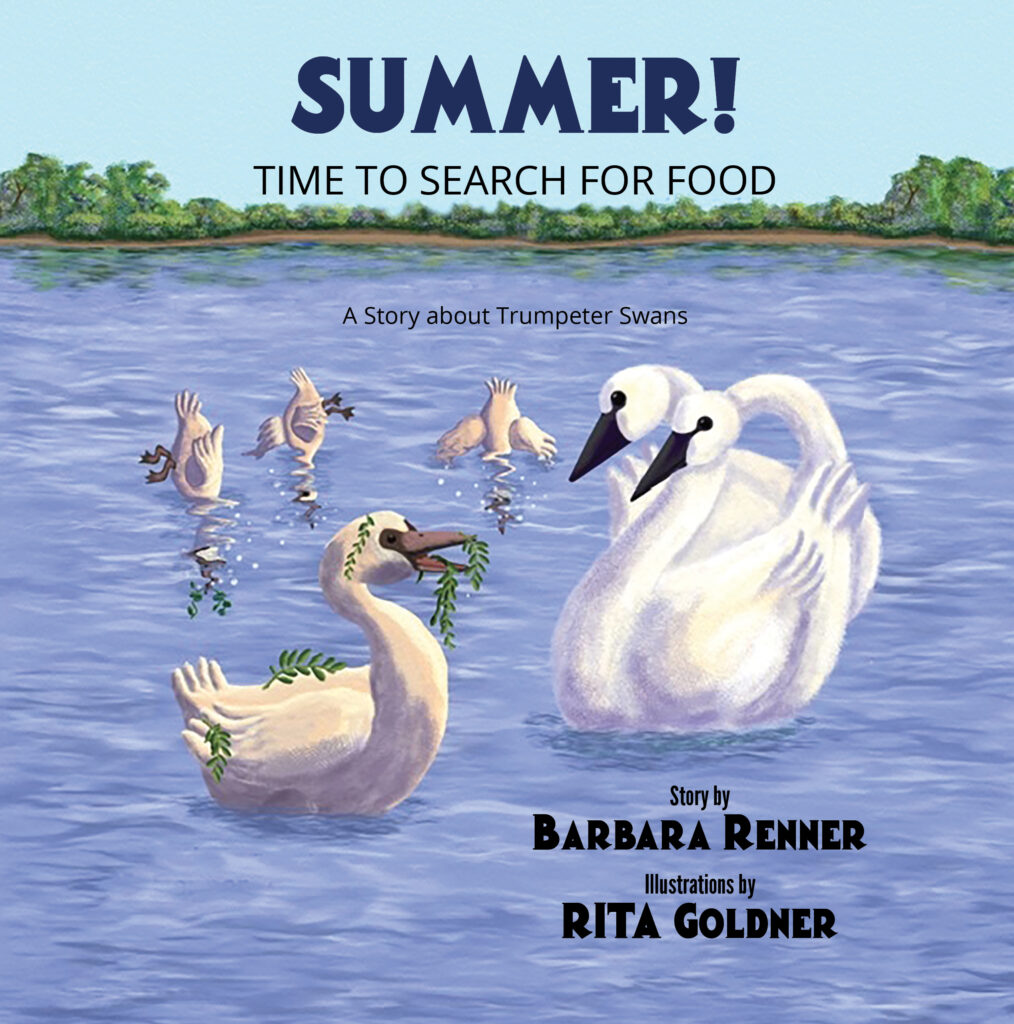 Reviewed by Emily-Jane Hills Orford for Readers' Favorite
Cygie is a young cygnet, a baby swan. He and his siblings are learning how to feed underwater. That's where they get their food, mostly water plants, but sometimes small fish, fish eggs, and insects. They have to duck their heads into the water, tails up as if they're about to dive underwater. Cygie's not so sure he likes this idea, as it makes his face wet and his nose hurts. He's convinced he'd do better on land and sets out to find some bugs. Only it's not as easy as he thought, especially when he's threatened by a fox.
Barbara Renner's picture book story, Summer! Time to Search for Food: A Story about Trumpeter Swans, is a lovely tribute to a beautiful waterfowl. Beginning with a little background on trumpeter swans, the author introduces key terms like cob, cygnet, pen, and others. Then she tells the story about Cygie the young cygnet and how he learns to find his food without hurting his nose. The beautiful illustrations help carry this story along. The author concludes with some interesting facts about trumpeter swans, a list of additional resources, and a lovely illustration for the young reader to color. There is even a link to an online resource that will provide audio of the trumpeter swan's call. The story is told in simple language so a young reader can read along and learn some new words associated with trumpeter swans. There is lots of educational value to this story as well as it being an interesting read.
---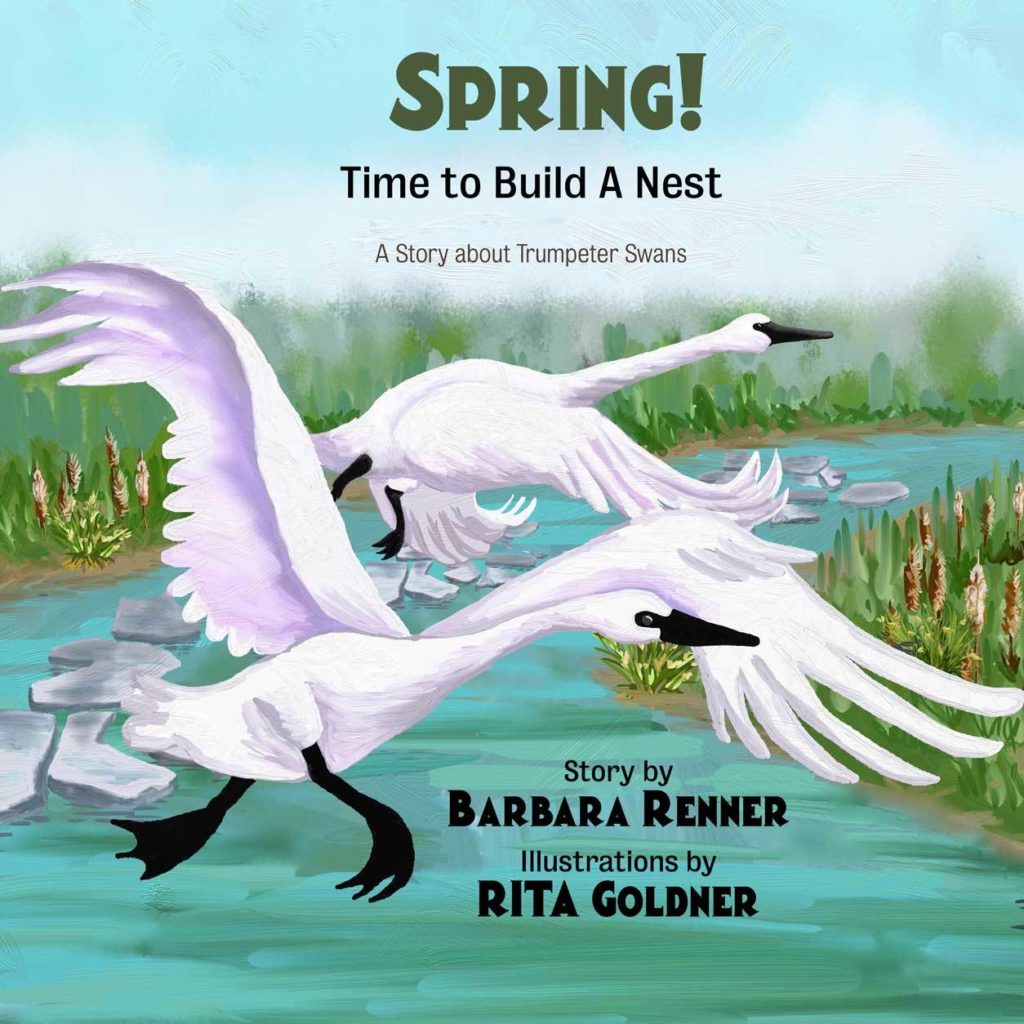 Reviewed by Mamta Madhavan for Readers' Favorite
Spring! Time To Build A Nest: A Story About Trumpeter Swans by Barbara Renner is an informative and educational book that throws light on trumpeter swans. The journey of Pen and Cob is wonderful, and the illustrations by Rita Goldner make it palpable to young readers. The illustrations are adorable and they make the concept appealing and captivating. It is a good storybook to make children aware of trumpeter swans which were almost extinct in the early part of the 20th century. Their numbers have risen and there are over 34,000 of them now. Books like this with a story and information are good for children, and can be used in classrooms and at home to make learning fun, easy, and interesting. The glossary at the beginning of the book makes it easy for young readers to understand the new words in the book and thereby helps them enhance their vocabulary.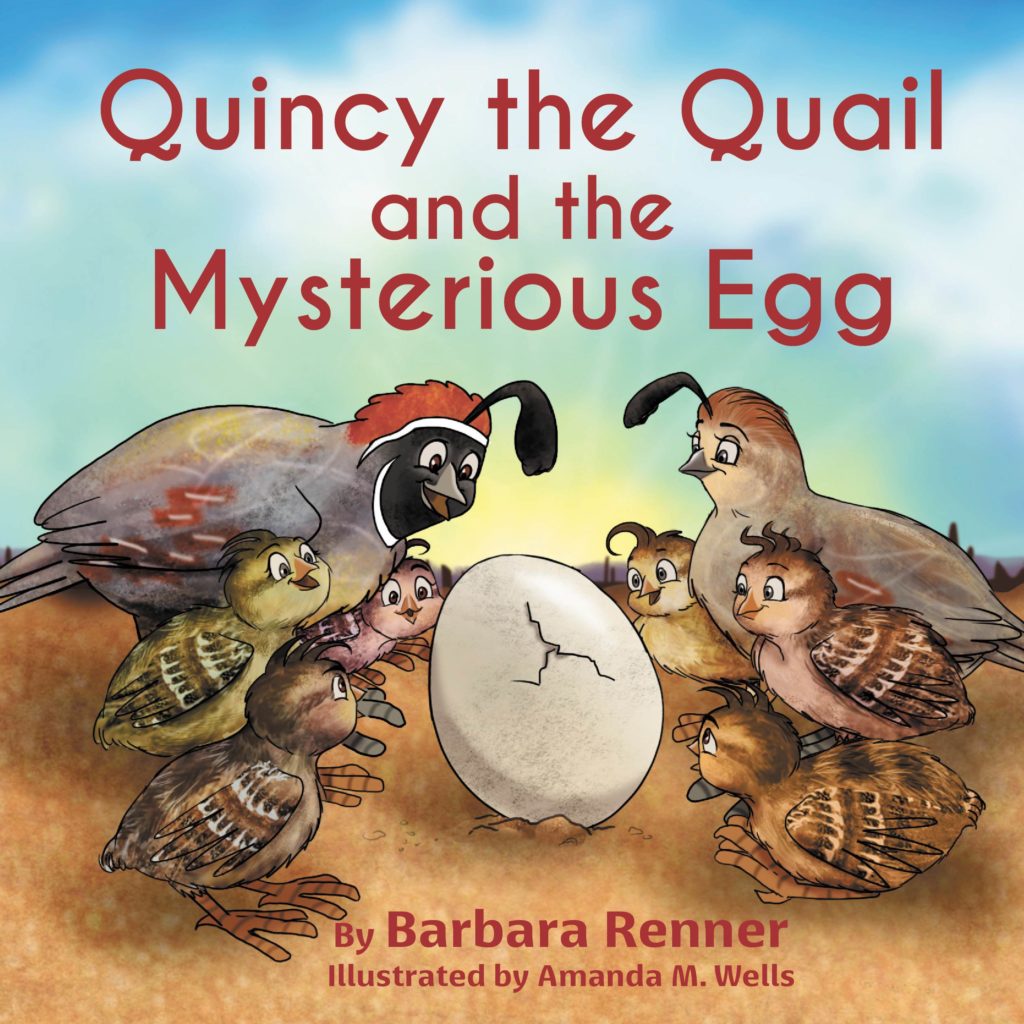 Reviewed by Gail Kamer for Readers' Favorite
Quincy the Quail and the Mysterious Egg by Barbara Renner is the story of quail parents taking care of their eggs. A horned owl appears and scares the family. Will he harm their nest? Quincy stands tall to protect his family when a huge egg drops from the sky, landing close to the quail family's home. What should they do? What would you do? They should show kindness and help the egg hatch, of course. In a world that needs more kindness, Barbara Renner uses the story of Quincy and his family to model a way to show kindness, in Quincy the Quail and the Mysterious Egg. Not only does Renner demonstrate the theme of kindness but also that learning is fun. She has included short factual information about quails, owls, and plants around them in the southwest.

Would you like to know what sounds a quail makes? What about an owl? You are in luck as a QR code for a Gambel's Quail and that of a Great Horned Owl are both included. Amanda M. Wells' colorful illustrations bring the story and the quail family to life for the young reader. I love the illustration where the baby peeks from the shell. Quincy the Quail and the Mysterious Egg by Barbara Renner is written for young children and is perfect for them with its short length and beautiful illustrations. I highly recommend Quincy's heartwarming story to adults seeking a simple story for youngsters with the theme of kindness.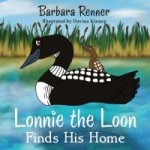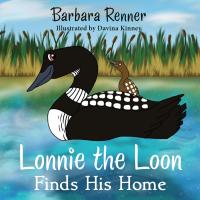 Reviewed by Mamta Madhavan for Readers' Favorite:
Lonnie the Loon Finds His Home by Barbara Renner is a delightful storybook for children that revolves around Lonnie the Loon who is looking for the perfect home. As Lonnie tells his mother about his wish to live in an eagle's nest, a beaver's dam or a muskrat's waterhole, his mother gives him details why it is not possible for him to live in those places. The mother shows him his proper home, a nest of dried grasses hidden by cattails so that they are safe. The book tells readers a lot of facts about the loon and helps them to increase their knowledge as well as their vocabulary.
The book will captivate young readers with its delightful story and bright illustrations. The story, the scenes, and the characters come alive with the help of the illustrations, and connect well with readers. It will make a good bedtime storybook for children and is also ideal for read aloud sessions in classrooms and school libraries. Lonnie the Loon is an adorable character and his eagerness to learn is encouraging. The story is simple yet gives readers information about the loon and also other facts that are educational and informative.
Children not only get to know more details about where animals and birds live, but they can also improve their vocabulary by learning new words and also interesting facts. Books like this are perfect for children when they start their reading habits because it works on them on many levels.
Read the entire five-star review here. Comments are welcome and appreciated.
Five-Star Review by Joey on Amazon.com:
Terrific new children's book. The first of a trilogy of Lonny the Loon books by Barbara Renner. Wonderful books for preschool and early grade school children that teaches about these interesting birds. My grandchildren love them!
---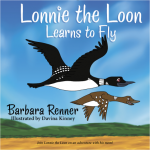 Reviewed by Jessyca Garcia for Readers' Favorite:
Lonnie the Loon Learns to Fly by Barbara Renner is a cute educational book about how things move around. Lonnie is a curious Loon who wants to learn how to fly. He asks his mother how different things such as clouds and rivers move.
Barbara Renner may have written a children's book but she has educated me on loons. In Lonnie the Loon Learns to Fly, I learned that a loon's plumage turns gray in the winter. This was just one of the many facts that Renner added to the bottom of her pages. I read this book with my child and she was able to read most of it by herself. She loves birds so this was the perfect book for her. She loved it when Lonnie tried to make himself into different shapes like a cloud or when he pretended to be a river. I personally adored the line, "Everyone carries seeds when they talk to each other." People really do carry seeds when they talk to each other; I have never thought of it like this.
Lonnie the Loon Learns to Fly is the perfect book to read in a classroom. The kids would have a blast imitating the same things Lonnie does. I recommend this book to all teachers that teach young grades. Renner also has one other Lonnie the Loon book that I have yet to read, named Lonnie the Loon Finds His Home. I imagine that it would be a fun read just like this one.
Read the entire five-star review here. Comments are welcome and appreciated.
Five-Star Review by Joey on Amazon.com:
Good read for young children. Lonnie the Loon is a terrific read for young children. I bought it for my grandchildren, ages 3 and nearly 6, and they really enjoyed it. They are from California and visiting us in Minnesota and liked learning about loons I would recommend this book!
---
Reviewed by Emily-Jane Hills Orford for Readers' Favorite: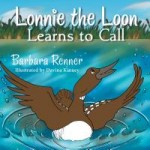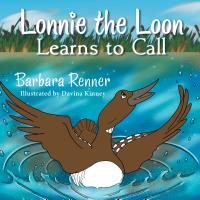 Fond memories of visits to the lake, and summers spent at a cottage are sure to conjure memories of the impressive call of the loon. These large birds live on or near lakes and marshes and their distinctive bird calls help them communicate with other loons. All of this information and more makes for an interesting theme in Lonnie the Loon Learns to Call, a children's picture book by Barbara Renner.
Lonnie is a young loon, learning all about his surroundings. He hears honking and learns that it is a goose calling for his mate. He hears quacking and learns that it's a duck calling to her ducklings. He impresses his mother with his ability to distinguish between the sounds and she decides that it is time for Lonnie's father to teach him the calls of the loon. "Lonnie," his father begins, "Our loon family makes four different sounds." He proceeds to demonstrate the four sounds and explains the purpose for each call: protection, a boat is approaching, an eagle is flying over their nest, or just having fun. Lonnie listens to each call and the reader can too, as there is an app for each call. Lonnie is a good listener. He learns quickly. When his father is finished, he practices the loon calls, showing particular pride in his "Oooo-Waaa-Oo" call.
There is a story behind every lesson to be learned. Lonnie learned his calls through his father's demonstrations and explanations. Young readers learn about all aspects of life through reading and listening, to following a good story. Barbara Renner has written just that: a good story. The book is colorfully illustrated, the illustrations themselves telling a story about the loons. There are side bars to provide basic facts about loons. The added apps to allow the young reader to actually hear the loon calls being described in the story is a real bonus. This is a delightful story for young readers that educates as well as entertains.
Read the entire five-star review here. Comments are welcome and appreciated.
Five-Star Review by Joey on Amazon.com:
This is my favorite of the 3 Lonny the Loon books by Barbara Renner, but I love all three. In this book you can use your smart phone to download an ap that lets you listen to the loon calls. Such a terrific idea! Kids will love this and likely try to emulate these wonderful bird sounds.
---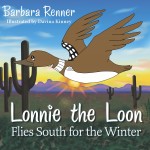 Reviewed by Mamta Madhavan for Readers' Favorite:
Lonnie the Loon Flies South for the Winter by Barbara Renner is a delightful storybook for children. Lonnie the loon is playing with his friends and a fisherman is watching the loons play. Lonnie's dad comes and tells him that it is now time for them to fly south as the entire lake will be covered with ice during the winter season. As they fly, Lonnie and his friends are carried away from the coastal waters due to the wind. They finally find a lake where both the air and conditions are dry. Lonnie learns a lot about desert animals and living in the desert. It's a cute story of friendship that will connect well with readers.
Children will love Lonnie, Quincy, and the other animals they meet in the story. The illustrations are appealing and they make the story come alive for readers. It's a good bedtime storybook and can also be used for read aloud sessions in classrooms and school libraries. Through the story, children are introduced to the different types of animals that live in the desert and also about living in the desert. The book is educational as well as informative and readers learn a lot of new things. Stories with information, a concept, and messages are good for children to help them understand easily. Lonnie the loon and his stay at the desert lake teaches kids about desert life and the animals that can be found there. An excellent story with a good concept for young readers.
Read the entire five-star review here. Comments are welcome and appreciated.
---
Reviewed By Rosie Malezer for Readers' Favorite: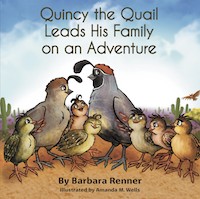 Quincy the Quail Leads His Family on an Adventure is a children's book, written by Barbara Renner and illustrated by Amanda M. Wells. Quincy the Quail, his mate, Quella, and their three sets of twin chicks set off for an adventure. During their outing, they learn about the surrounding landscape, how to survive obstacles on the ground which hinder their path (they do not fly well), and where they can find food. When the rains come, the family hurriedly follows Quincy to safety, but not before tragedy strikes. Quincy's only hope of survival is from a friend who has carefully watched the family all day.
This is a rather interesting book for children, as it not only provides a story which is beautifully illustrated, but also gives factual information about quails and other animals which might come across their path. Also provided, for hearing readers, are QR-coded noises which take the hearing reader to a link where they can listen to the sounds of the animals in the book. As a Deaf reader, I was unable to take advantage of this feature, but if the sounds equal the quality of the writing and illustrations, I am sure they will be a sheer delight for many children. It may also encourage readers to pay attention to the birds in their area and the different sounds that they make. With such an educational and fun adventure, I recommend Quincy the Quail Leads His Family on an Adventure not only to children aged 3-12, but also to those who are particularly fascinated by birds of all shapes and sizes.
---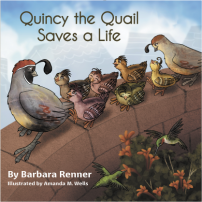 Reviewed by Mamta Madhavan for Readers' Favorite:
Quincy the Quail Saves a Life by Barbara Renner is the story of Quincy the quail who lives in the desert with his family. It is a beautiful day and Quincy and his mate, Quella, decide to call their chicks for a family meeting. They plan to go to a new neighborhood to hunt for their food that day. Their friend Mr Owl warns them about the birds and animals protecting that territory. They are met by two hostile hummingbirds who ask them to get out of their yard. One of them bullies the chicks and Quincy scares the hummingbird by spreading his wings and puffing his feathers so that he looks big. It is a story of friendship and being kind. Children will like the way Quincy saves the life of the hummingbird who bullied his chicks.
What I like about this book is the QR Codes that allow readers to listen to the hummingbird sounds and quail calls. That makes the characters so real and tangible for young readers. The illustrations are wonderful and they capture the essence of the concept nicely. It is a good storybook for classroom interactive sessions because of the message and the educational and informative contents provided through the story. Children learn more about quails and the interesting facts on each page are useful. The use of QR Codes and the facts on each page make the story and the book unique, fun to read, and refreshingly original.
---
Reviews by young readers: