Barbara visits schools and libraries to read her books, present lessons about the animals in her books, and facilitate writing activities.
---
I'm developing new ways to read my books to children, create fun crafts, and present writing activities through my YouTube channel. Also watch for informative newsletters and special book sales from me.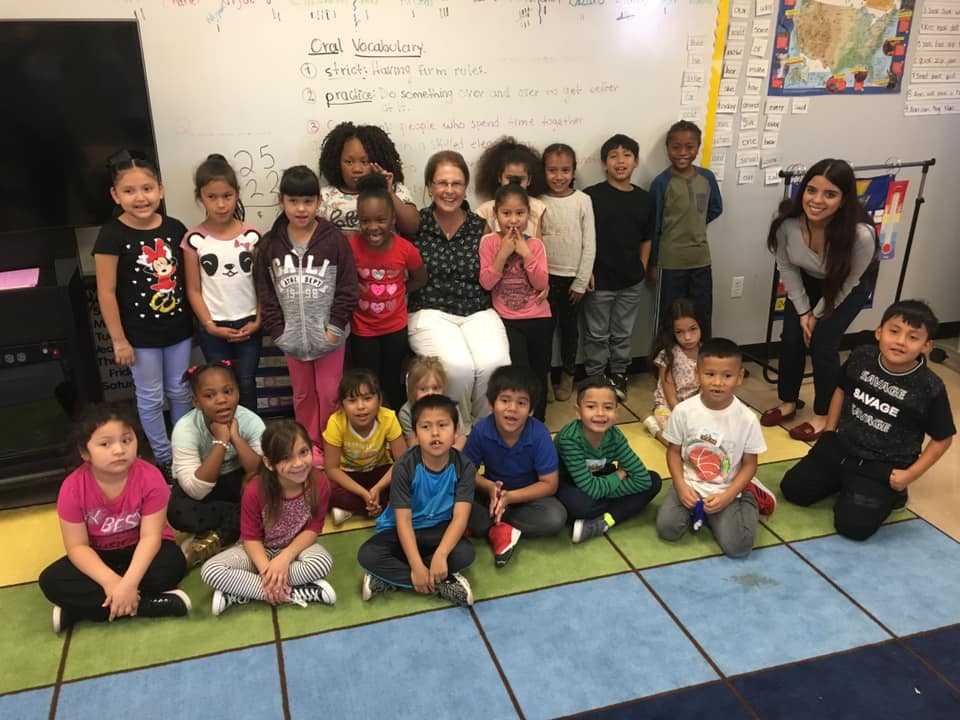 In addition to school and library visits, Barbara will plan and coordinate Book Fairs and Literacy Nights.
She has taught everything from Bible study to 4 year olds, to accounting to adults. Her expertise is in English, grammar, writing, and speech.
Barbara researches the wildlife in her books and shares facts, sounds, and videos with a PowerPoint presentation.
---
LESSONS AND WRITING ACTIVITIES
Life lessons about friendship, kindness, and getting along with others are themes found in all her books. Soft skills such as leadership, teamwork, and problem solving are bonus topics in every presentation.
STEM topics about nature and geography are also incorporated into her presentations.
LESSONS ABOUT WILDLIFE
Barbara designs lessons about wildlife for individual classes. Her areas of expertise include Gambel's Quail, Common Loon, and Trumpeter Swan.
Presentations may include a Reading, PowerPoint, Worksheets, and Crafts.
Signed copies of her books will be donated to the library.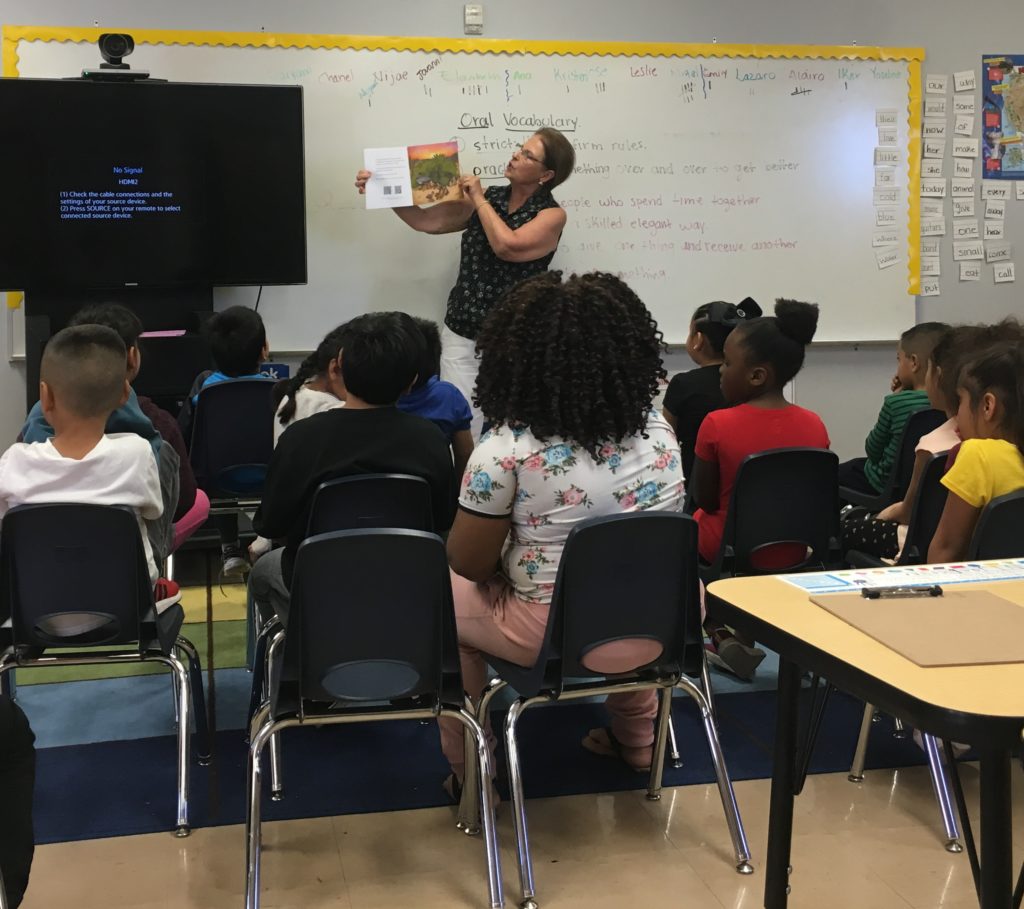 WRITING LESSONS
• Story Elements • Characterization • Writing: Show, don't Tell
• Beginnings and Endings • Planning a Story • Letter Writing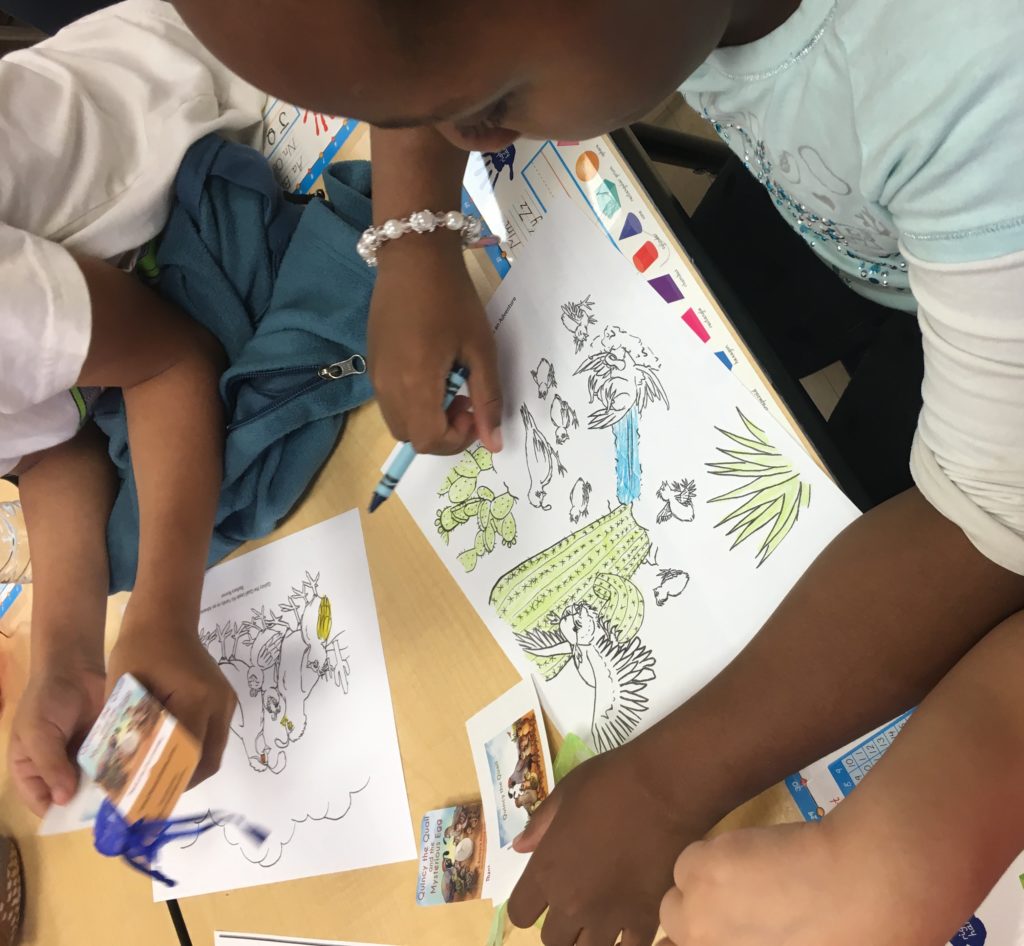 ---
LOVING LITERACY AUTHORS
Loving Literacy Authors (LLA) is a group of local authors dedicated to helping improve the reading and writing skills of Arizona's children.
Founded in August 2022, LLA is composed of seven local children's authors, many of whom are former teachers, who all have a passion for literacy. The group offers school visits and traveling author fairs to public, private, and charter schools throughout the Valley. Schools may choose from these authors for their special event, having from one to seven in attendance. They also may select from an assortment of educational topics.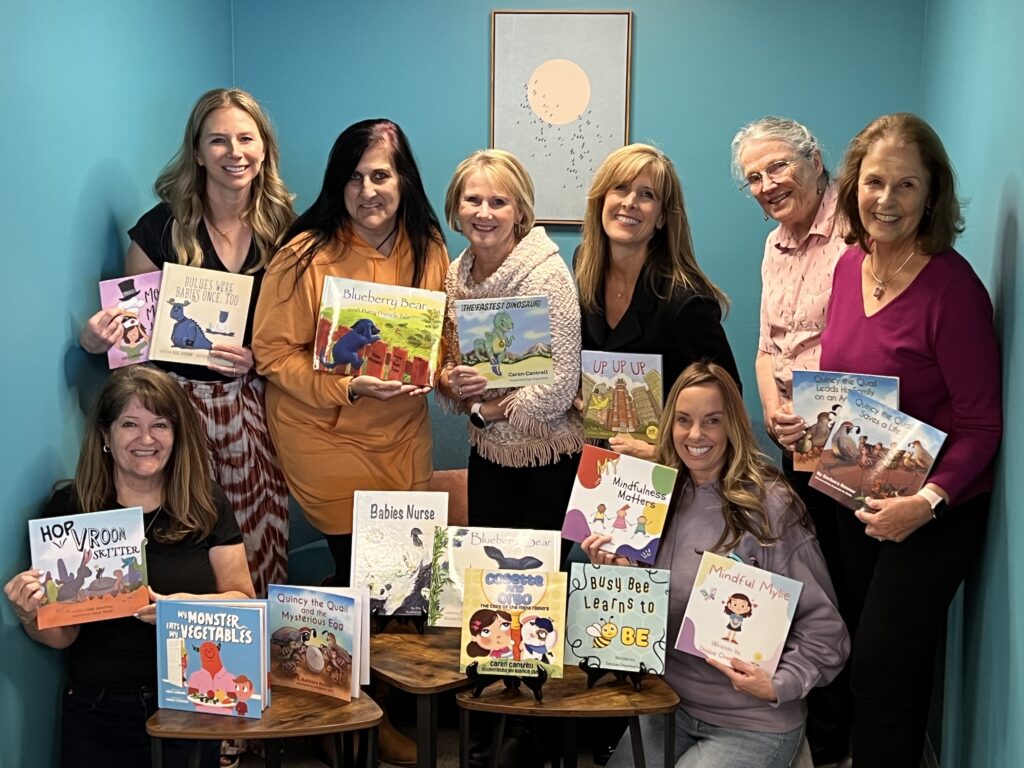 "At Loving Literacy Authors, our mission is to connect with teachers, librarians, and principals to inspire students to read and write. We encourage creative expression and provide support for educators. Our goal is to provide an unforgettable experience for everyone involved," says Debbie Chamberlain, the group's coordinator and co-founder."
To learn more about the Loving Literacy Authors group or to schedule author fairs or school visits, please contact Barbara at [email protected], follow on FaceBook, or visit our Instagram page @LovingLiteracyAuthors.
We were very fortunate to have the Loving Literacy Authors group as part of our Dia de Los Ninos/Libros celebration at Galveston Elementary School. Barbara Renner is the point of contact for arranging the group's visit and she was so easy to work with. She is very organized, informative, and punctual with any form of communication when setting up this amazing event. She was able to offer suggestions so that each grade level at our school had an author who could present to them.
-Joanne Doroz-Gierak
Galveston Elementary School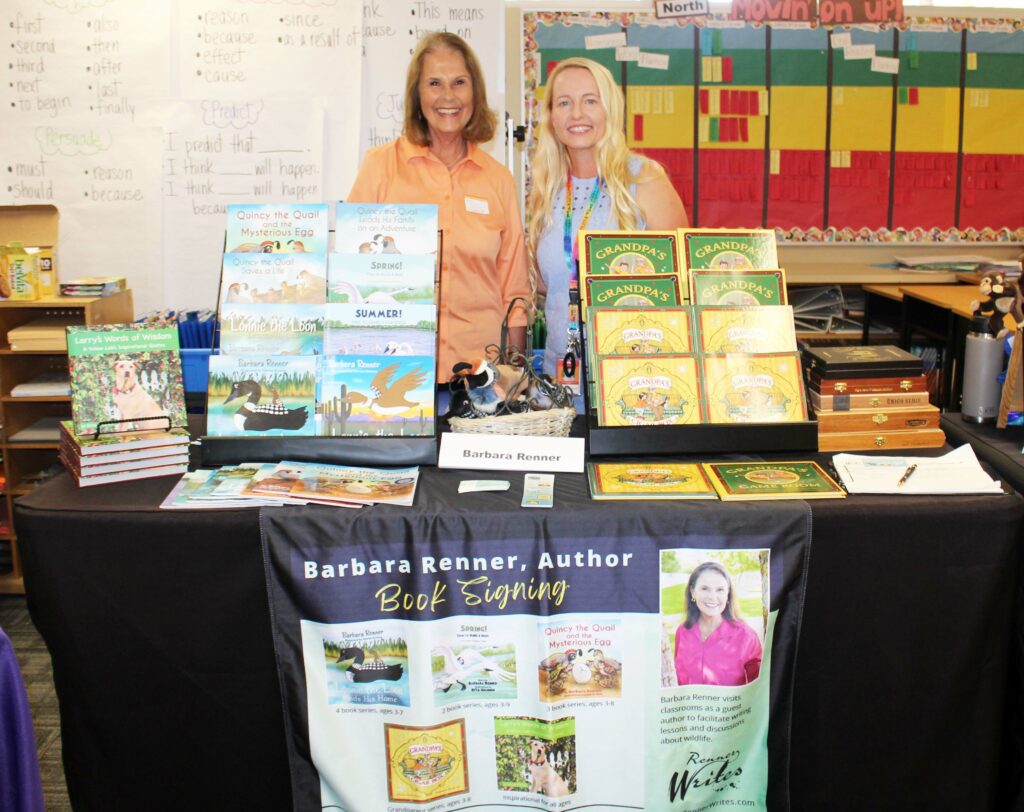 ---
SCHOOL AND LIBRARY VISIT TESTIMONIALS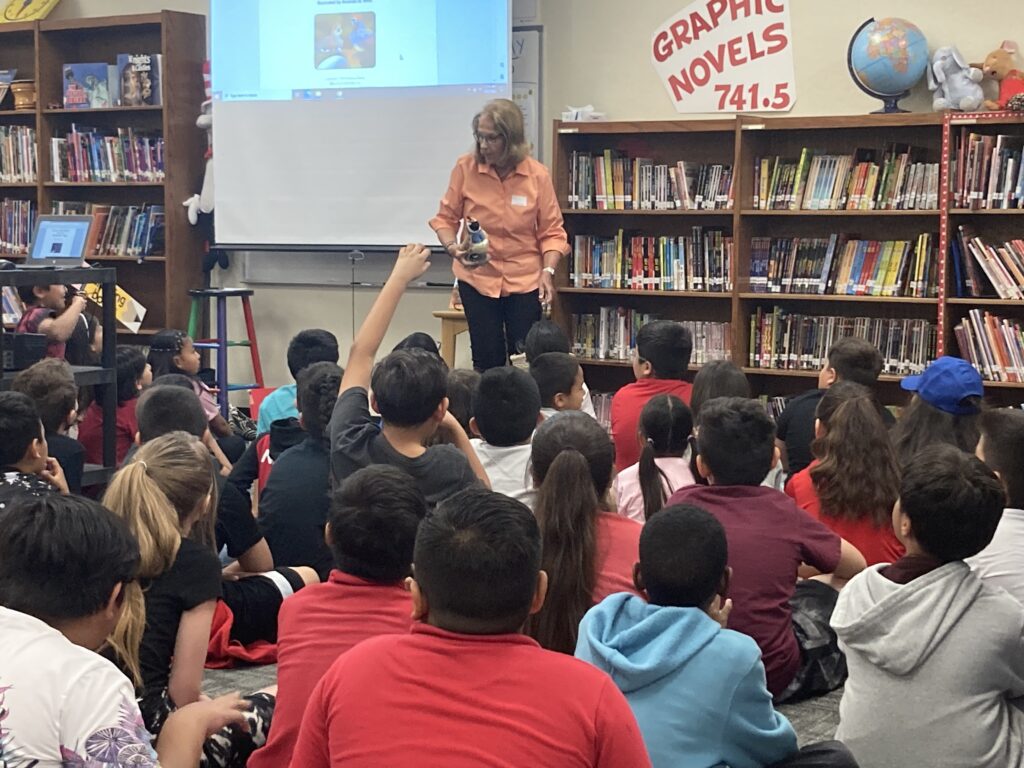 Barbara Renner presented her series of books to the 3rd and 4th Grade students. She is a very captivating speaker who not only informed the students about the writing process but also showed the students how important it is to be observant in nature when she demonstrated the different animal sounds for the students to identify. Her Quincy the Quail books exemplify this love of nature and animals with an overall lesson to be learned by the students. I highly recommend Barbara Renner for an author visit with her group of Loving Literacy Authors for any school, library, or festival. She truly exemplifies the love of literacy!
-Joanne Doroz-Gierak
Galveston Elementary School
---
"Barbara took the time to present her wonderful stories with our K-6th students at Mirage Elementary school. She read Lonnie the Loon Flies South for the Winter to the older kids and Quincy the Quail and the Mysterious Egg to the primary kids. Each story was accompanied with an engaging writing activity. The kids got to learn about science and nature, QR codes and really understand how being passionate can fuel your writing. We were so lucky we got to meet Barbara and share in her story telling. Thank you so much!"

-Sara Stevens, Reading Specialist
Mirage Elementary School
---
Your Quincy the Quail books "will be perfect for the Sonoran Desert unit! I love the fact box on each page, and the information about the Sonoran Desert in the back of one of the books! And what a bonus, the QR codes for the sounds!! The kids will LOVE that, and the sounds bring me back to my love for quail, and for caring for them! Thank you so much for bringing the desert and Gambel's Quail alive for Kindergarteners."
-Teacher in the Paradise Valley Unified School District
---
"We are so thankful that we were able to have this time to hear different ways authors create their books!"

"I even learned about some great activities that I'd love to try with my kids!"

"It was wonderful! I was so impressed with all the notes my students took and questions they asked. They were writing all day!"

"I was pleased that our school valued writing to the extent that they allowed me to plan a day of guest authors who shared their craft with the students. Each author presented a different topic that would give students a special take away they could use in their work. The generosity of the authors was amazing!"

-Marti Noland, 4th Grade, Department Head
Paradise Valley Christian Preparatory