KENNEDY SPACE CENTER

Number 1 Son & Number 1 Daughter and I visited Florida the first of March, just before the quarantine confined us to our homes. The highlight of our trip was visiting the Kennedy Space Center at Cape Canaveral. Oh my gosh, that was such an exciting experience. The shuttle bus drove past Launch Pad 39A where Apollo 11 blasted off to the moon. Our tour ended at the Apollo/Saturn V Center where a moon rover is on display, as well as moon rocks, which provided us with a touchy/feely moment. One person we encountered was one of those conspiracy theorists who believes the walk on the moon in 1969 was a hoax and staged on a movie set somewhere in Nevada – until she saw the moon rover and felt the moon rocks.
After snapping pictures of the Space Shuttle Atlantis at the Heroes and Legends complex, we climbed into a simulator, buckled in, and blasted off. I read the posted warnings about not going on the "ride" if you experience motion sickness, but I ignored the signs. Our seats shook and tipped and shuddered, but I didn't throw up. It was more like an E Coupon ride at Disneyland. Such a wonderful experience; I highly recommend visiting the Kennedy Space Center.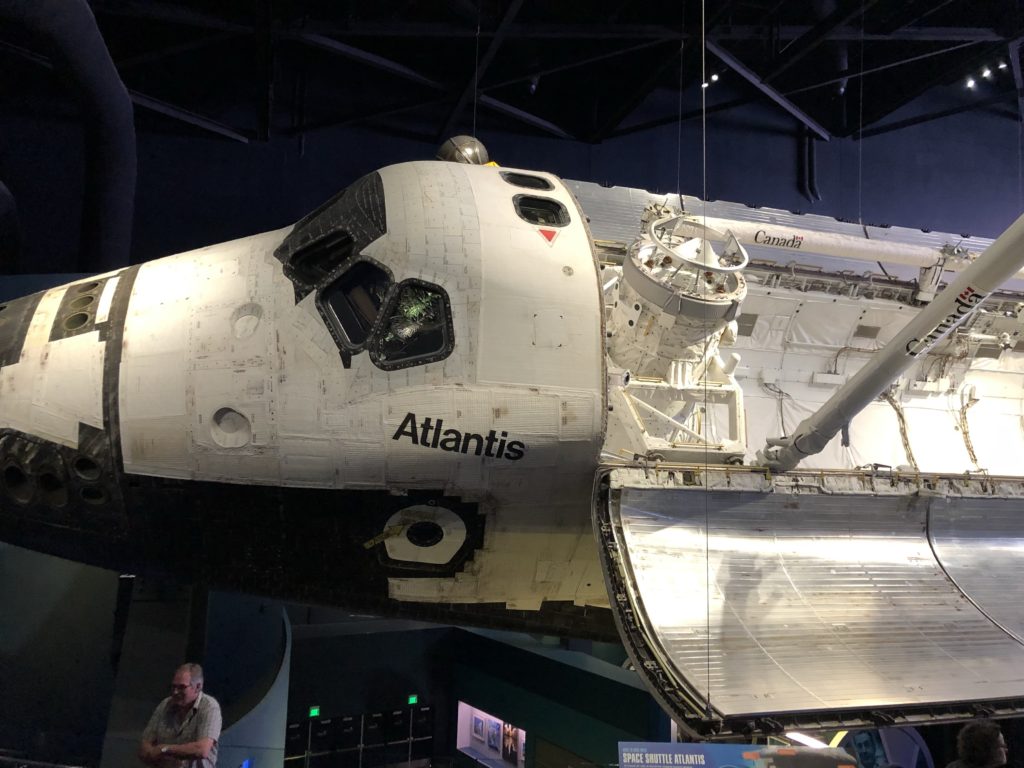 APOLLO 11
Almost fifty-one years ago, on July 20, 1969, Apollo 11 headed toward the moon with Neil Armstrong, Buzz Aldrin, and Michael Collins. Armstrong was the first person to step on the lunar surface, and he and Aldrin spent 2 1/4 hours collecting lunar material to bring back to earth. Sounds incredible for 1969, right? I watched the launch and the landing with my own two eyes. Yes, I'm that old. My Hubby of one month and I glued our eyes to our 15-inch black & white TV and watched the whole thing as Walter Cronkite gave the world a play by play – "And that's the way it is, July 20, 1969."
SPACE X
Something exciting happened on May 30, 2020, and I watched that too. Space X launched astronauts Bob Behnken and Doug Hurley into space to dock with the International Space Station. Guess where the rocket lifted off from? Pad 39A at Cape Canaveral, where Apollo 11 launched almost 51 years ago – goosebumps. NASA and Space X have big plans for future missions, including going back to the moon and landing on Mars and beyond – sounds very Twilight Zone-ish. These flights will include female astronauts. Dang, don't you just love rocket scientists? I wish I had astronaut as a career choice when I was a teenager instead of nurse or teacher.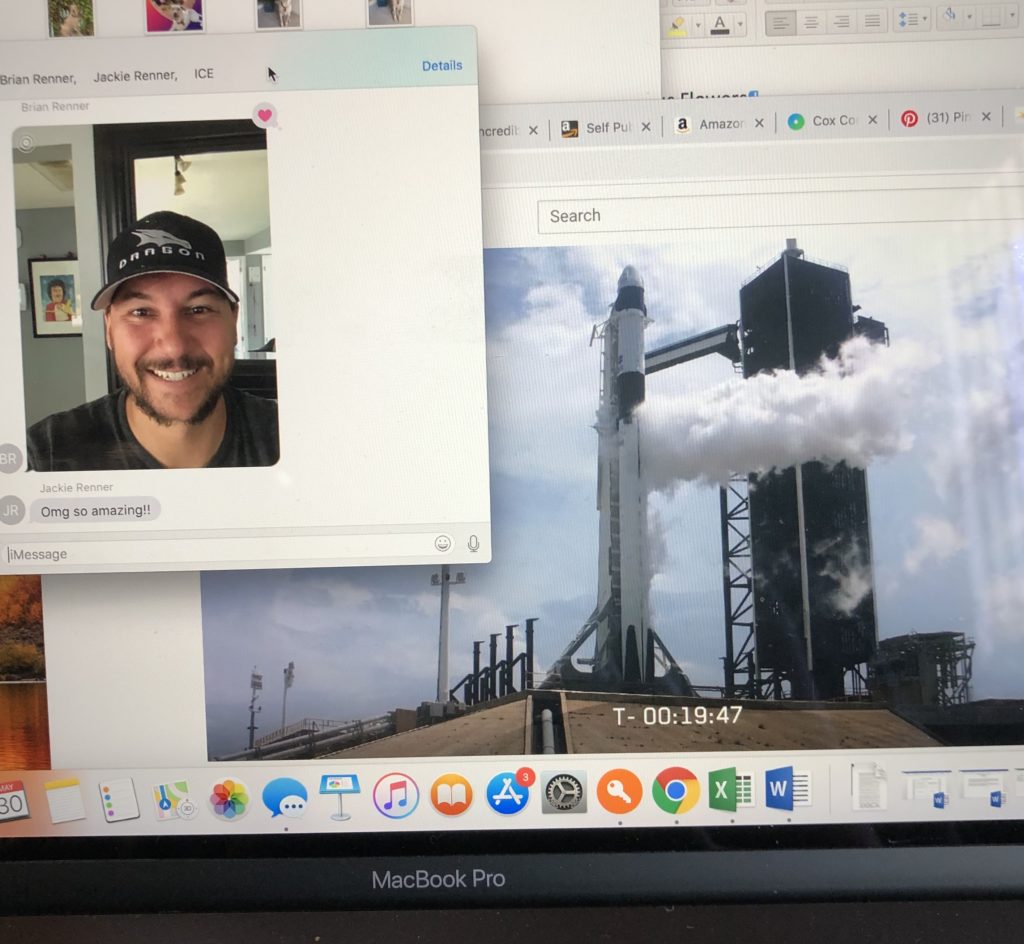 I want to mention here that Number 1 Son and Number 1 Daughter were watching the Space X launch on YouTube as well. I asked Number 1 Son if he was wearing his Space X hat he purchased at the Kennedy Space Center when we were there in March, and he sent me his picture. T -19:47 – more goosebumps.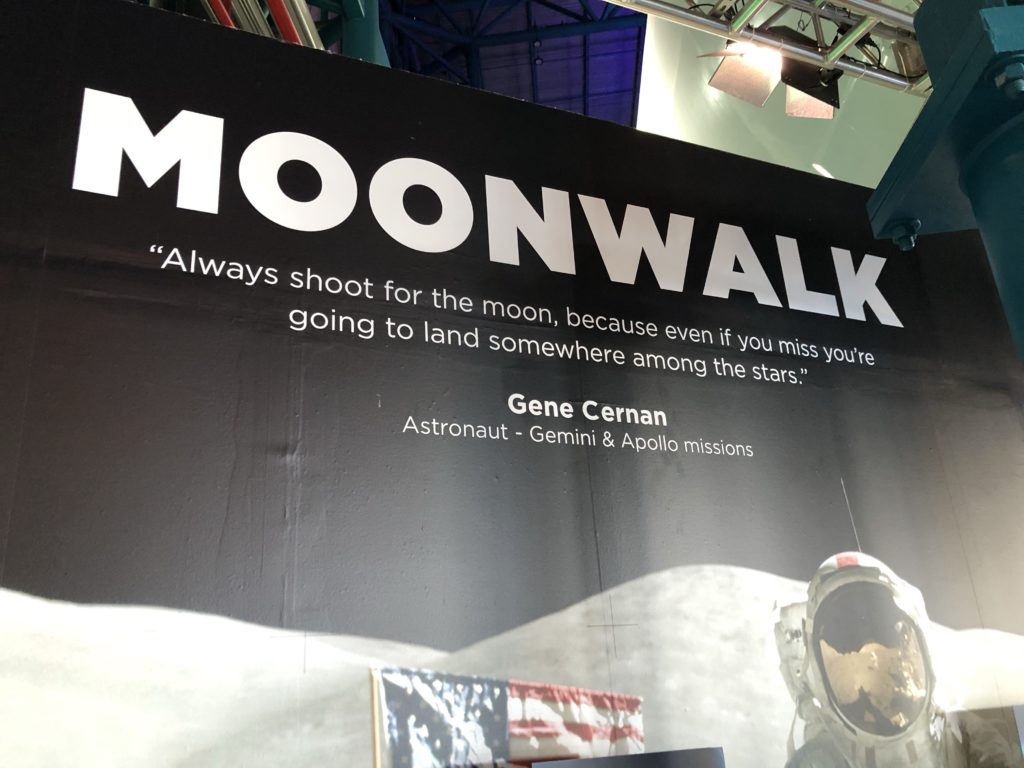 BOOKS FOR SALE
I don't have any books about space, but I do have books about birds, is that close enough? All my books are discounted to $9.99 each if you buy them from my website. I'll personalize and sign each and every one and mail them to you as soon as I can.