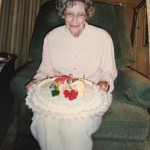 Today is Mother's Day. I am sitting in a truck with my husband driving through Utah on our way to our summer home in Minnesota. It's raining, and the Beatle's song "Just Another Day" is appropriately playing on the radio. You may be asking yourself some questions: "Why are you traveling on Mother's Day?" and "Why are you driving through Utah to go from Arizona to Minnesota?" These are very good questions, and husband believes he has very logical answers. Walleye season opens on Mother's Day weekend, and Bass season opens the weekend before Memorial Day. Husband must have time to prepare the boat and get settled in the house before the marathon fishing begins. To answer the next question, we drive west, then north, to avoid tornado alley through Kansas and Nebraska. What do I know, I'm just along for the ride, which pretty much sums up my married life.
I had a wonderful mother. She was kind, always putting others before herself. She was devout, bringing her children up in the church. She was smart, keeping up with the bookwork and finances for her entrepreneurial husband. After reflecting on the 20 years I spent in my mother's house, a few stories come to mind.
Birthdays were always a special occasion. It didn't matter which family member's birthday we were celebrating, we would first go to a favorite restaurant and then come back to the house for cake and ice cream using colorful plates and matching napkins purchased from the Hallmark store. If it was a special birthday, like turning 10, 13, or 16, she would host a party for my friends with a theme of my choosing. One year I had all my friends over for a slumber party and we made crazy hats to wear. I still have the goofy pictures of us sitting on the sofa in the living room.
One afternoon when I was about 10 years old, I found a straight pin and decided to scratch my name on the wooden footboard of my antique bed that my mother just had refinished. I honestly don't know why. Children don't usually know the reason why they do something. An idea pops into their heads, and they just do it. That's the first time I saw my mother really angry with me. She even walloped my behind. Later, she felt bad that she had spanked me and sat down with me to discuss what I had done. She analyzed that I had some special inner need to claim something that truly belonged to me, so that's why I branded my bed with my name.
When I was home from college one weekend, I drove 50 miles to visit my boyfriend in another city. I didn't get home until almost midnight and of course, my mother was still up waiting for me. Instead of getting mad at me, she got mad at my boyfriend for allowing me to drive home so late. She never criticized me or made me feel stupid.
Sharing special moments with my mother will always be imprinted in my mind. We sat at the kitchen table drinking coffee with Half and Half and eating a warm sweet roll smothered with melting butter. We'd make chocolate-covered marshmallows, and she'd show me how to tell a soft ball from a hard ball by dropping the chocolate on an ice cube. She wanted to try a cigarette one time when I was home from college, so we sat in the family room and smoked one together. We shopped for clothes together. We sat on the porch swing as she told me about her childhood as a preacher's kid. I could ask her anything and she would answer. She attended all the plays I performed in and told me how much she enjoyed them. She bragged to her friends about my good grades. She told me I was pretty.
Mother would never ridicule me or make me feel stupid. She would walk beside me and rejoice in my accomplishments. She would listen to me and valued my opinions. She was not judgmental and respected all creeds and races. I treated my own children the same way.
I miss my mother, and I will remember those special moments when I feel down and I'm just "along for the ride."