An author friend recently introduced me to Debbie Chamberlain, a retired elementary school teacher and ambitious lady who's passion is to encourage well-being in children and adults. Clearly, I want to be just like Debbie when I grow up. You'll see why after this interview.
A TWIN?
Barb: Tell us a little bit about yourself and include a tidbit of information not many people know about you.
Debbie: I am the mom of 3 incredible humans ages 26, 22, and 15. My husband and I are high school sweethearts and have been together for over 33 years. Our family loves boating and are all learning how to wakeboard and water surf! We love spending time at the beach, especially in beautiful San Diego! Something many people don't know about me is that I have a twin brother! We both have children the same age that are very close as well.
RETIRED TEACHER
Barb: You are a retired teacher. Tell us a little bit about your teaching career.
Debbie: Being a teacher was one of the biggest joys in my life. It's something I wanted to do since the time I was in elementary school. I remember having all the neighborhood kids come to my house so that I could teach them using my chalkboard!
I spent 19 years in various grade levels including pre-school, kindergarten, 2nd grade, and 3rd grade. My favorite subjects to teach were reading and writing. There was nothing more wonderful than hearing a child read for the first time and every time I read one of their adorable stories, it reminded me of how blessed I am to be part of such a creative process. Community was such an essential part of what I tried to cultivate as a teacher. Our experience together was fostered through trust, empathy, and a lot of love.
The last 5 years of my career as a teacher were spent organizing and implementing a mindfulness program at my school. We held school-wide assemblies, had mindfulness workshops for families, shared mindfulness lessons with the students, and created a beautiful wellness room for the students and staff.
MY MINDFULNESS MATTERS
Barb: Tell us a little bit about the children's books you've published.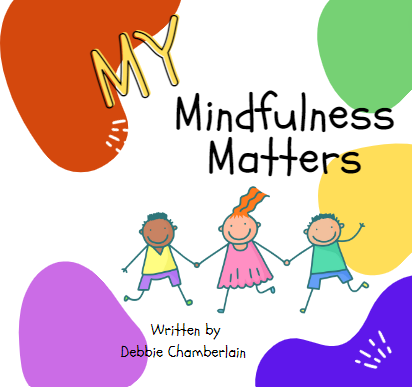 Debbie: My first book is entitled, My Mindfulness Matters. It is an engaging book about mindfulness used to help teachers and caregivers guide children through tools to help them with overall emotional well-being.
Each page is filled with a mindful message followed by an activity that may be shared to help them better understand. They will learn a fun way to focus on the breath, how to spread kindness, how our brain handles BIG emotions, and how we can persevere through hard times while loving ourselves along the way!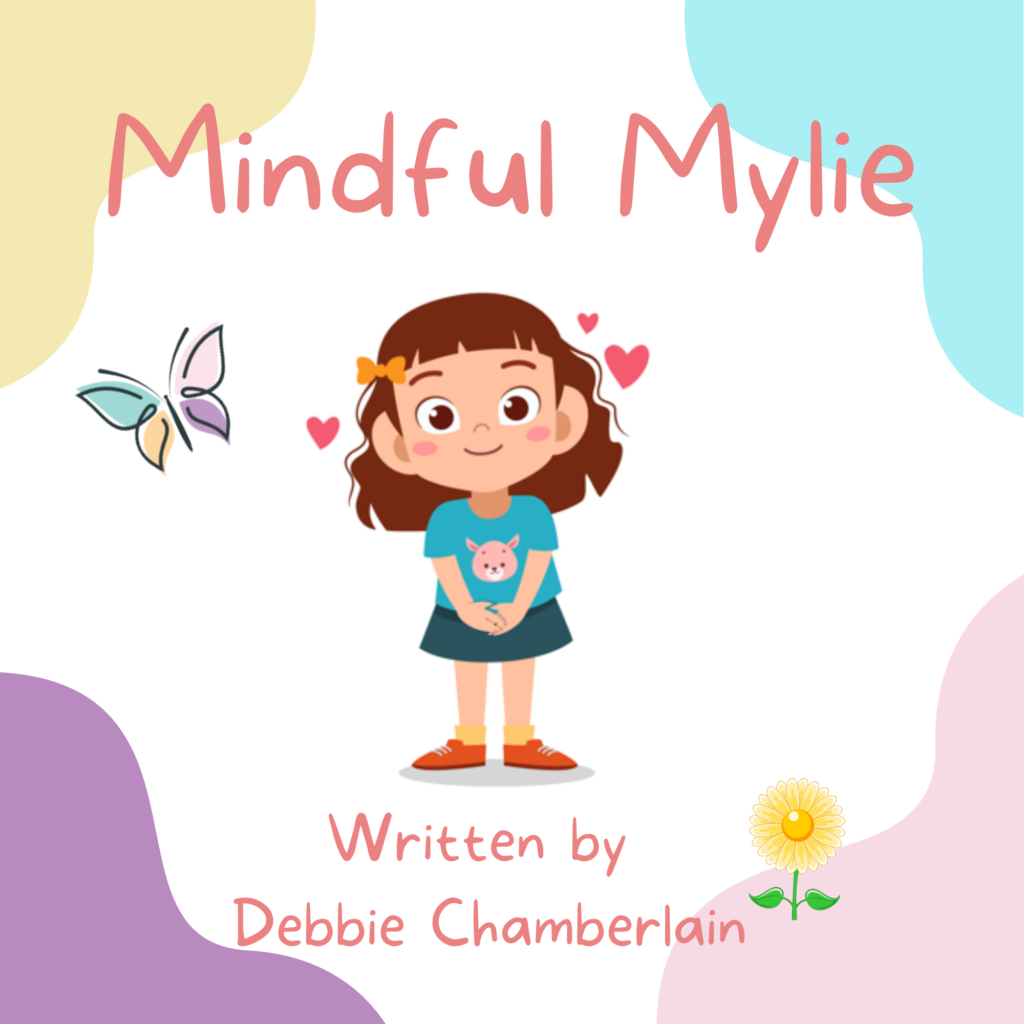 The second book is called Mindful Mylie. Mylie is nervous to start her first day of Kindergarten.
She feels a lot of emotions and isn't sure what to do. Then her teacher helps her discover her mindful toolbox and ways to help her when she is overwhelmed! The book contains several fun breathing exercises to help bring calm!
MYNDFULNESS MATTERS
Barb: You formed a business called "Myndfulness Matters." Tell us about that.
Debbie: Myndfulness Matters is intentionally spelled with MY because of the importance of your practice starting with our own individual intentions of living a life filled with an abundance of self-love, purpose, empathy, and compassion for others. When we give from this space of wholehearted living we are able to find a deeper connection with ourselves and others.
Barb: Our readers can go to Debbie's Myndfulness Matters website to learn more.
ADVICE
Barb: Do you have any advice for someone who wants to publish a children's book?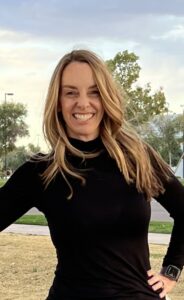 Debbie: Go for it!  I spent years reading children's books to my classes and never thought about reading a book that I wrote until I had something I was so passionate about that I couldn't help it!  This has been one of the most rewarding journeys of my life. Reading my own published book to my first class was a moment in time that I will always cherish. 
SPARE TIME INCLUDES CONNECTING TO PEOPLE
Barb: Tell us what you do in your spare time.
Debbie: I LOVE to spend time with my family and friends. Eating at different restaurants, traveling to new places, or just spending time by the pool! Connection and community are essential to my overall happiness and I feel so blessed to have so many inspirational people in my life.
NONPROFITS
Barb: Tell us what you are working on now.
Debbie: As the founder of Myndfulness Matters, I spend my time with people in mindfulness coaching sessions. I love sharing the practice with others and watching how it helps bring overall wellness to their life. In addition, I'm involved with a nonprofit that supports children with cancer and other life-threatening illnesses, and another nonprofit that brings mindfulness practices to schools. As a brand new adventure, I am looking forward to working with a group of published authors on a Loving Literacy tour visiting local elementary schools in the valley.
Barb: Thank you, Debbie, for sharing your compassionate story of helping others be mindful of self-love and empathy for others. I'm so glad I was able to get to know you better.
Follow Debbie Chamberlain on Facebook and Instagram.
LOVING LITERACY AUTHORS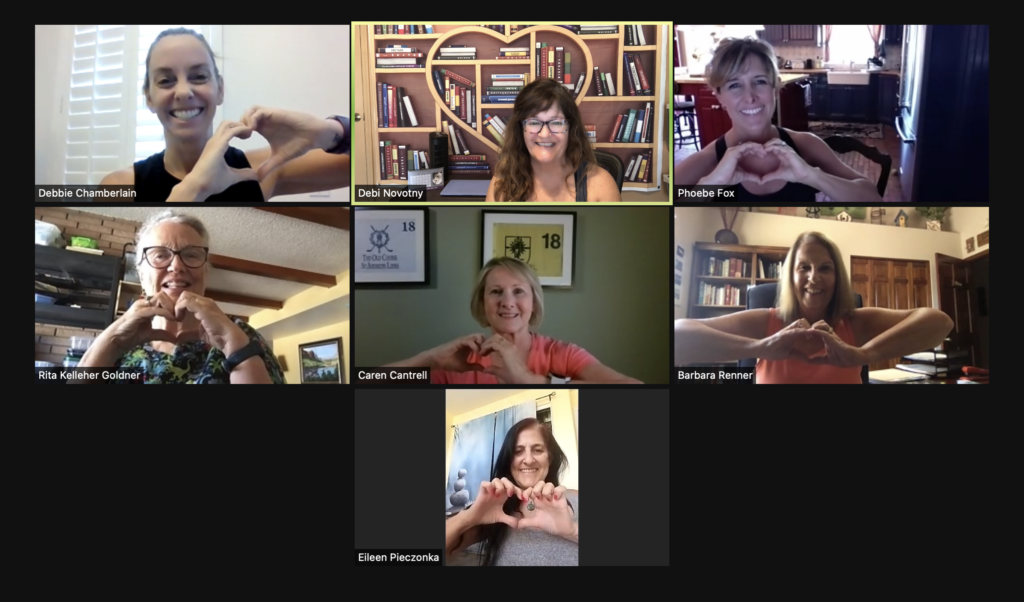 Well, look at this. Here is Debbie Chamberlain and the award-winning authors who will be visiting local elementary schools around the Phoenix, Arizona area with their books and fun presentations.
Follow us on Instagram @LovingLiteracyAuthors
Barbara Renner is a retired teacher, author, and animal lover. Check out her books and subscribe to her newsletters.