Yes, you read that correctly, Grandpa's Cigar Box.
No, it's not Grandpa offering his granddaughter a fat Montecristo White to puff on.
Yes, it's a children's picture book.
Say whaaaa? That's what my critique partners said, but more about that later.
Grandpa's Cigar Box is a story about a little girl who visits her grandpa and the fun they have together with the gifts they discover in an old cigar box.
It's a story that includes smells of the seasons. In spring, Jamie finds a package of flower seeds in her cigar box, so she and Grandpa plant marigolds. In summer, she finds swimming goggles. You can guess what fun they had in the swimming pool. In autumn, they carve a jack-o-lantern. But when she visits in winter, her cigar box is empty, and Jamie can't find Grandpa. (Don't worry, it has a happy ending.)
It's a story about giving, sharing, fun, and forming family memories.
WHY GRANDPA'S CIGAR BOX?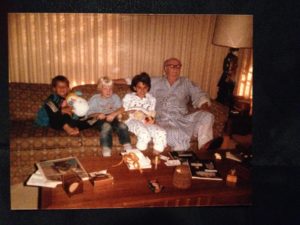 Why did I write Grandpa's Cigar Box? What gave me the idea? My dad kept an old cigar box in the coffee table drawer and filled it with trinkets, candy, and toys for the grandchildren when they came to visit. The first thing they'd do is head for that drawer "What's in the cigar box today?" My children still have their old cigar boxes from Grandpa.
And my dad was always one to share a good joke, like pulling his thumb off. That always stumped the grandchildren. One of his funnies follows Jamie and Grandpa through the story until the very end.
My dad was a real character. Read about him in my Father's Day Tribute.
HOW GRANDPA'S CIGAR BOX?
How indeed. I had always wanted to write a picture book about my dad's cigar box and the relationship he had with his grandchildren. I wrote down some ideas for the story in 2010, but was stumped on how to proceed. Finally, I wrote a very lengthy version and submitted my manuscript to SCBWI-AZ conference critiques, to agents, and to publishers. Nothing.
Then I joined a critique group. They helped me pare it down to a reasonable word count, but they didn't like the title. "Mothers aren't going to buy a picture book that makes a reference to smoking."
But there's no smoking in the story.
Still, the connotation is there. Does Grandpa smoke? No. We changed the title to "Grandpa's Surprise Box."
But that wasn't the essence of the story.
I decided to do some valid research – I asked my Facebook friends. The majority agreed, "Go for it; keep the title Grandpa's Cigar Box." So I did.
Michael Hale, Illustrator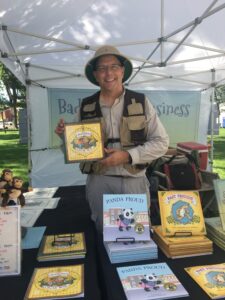 I asked a wonderful illustrator, Michael Hale, if he would be my illustrator. I'm so happy he thought the story was worthy enough to take on.
Michael was very accommodating to my ever-changing decisions about the little girl, Jamie.
Long hair; no, short hair.
Her outfit is too frilly.
Red tennis shoes, she has to wear red tennis shoes.
Michael is a very patient man.
It was Michael's idea to add the dog. I grew up with Boston Terriers, and the grandchildren fondly remember Bobo. Bobo and his cute expressions appear on every page.
Special Pages
The house I grew up in had a shake shingle roof, diamond windows, and shudders. Michael did a great job adding those touches to Grandpa's house.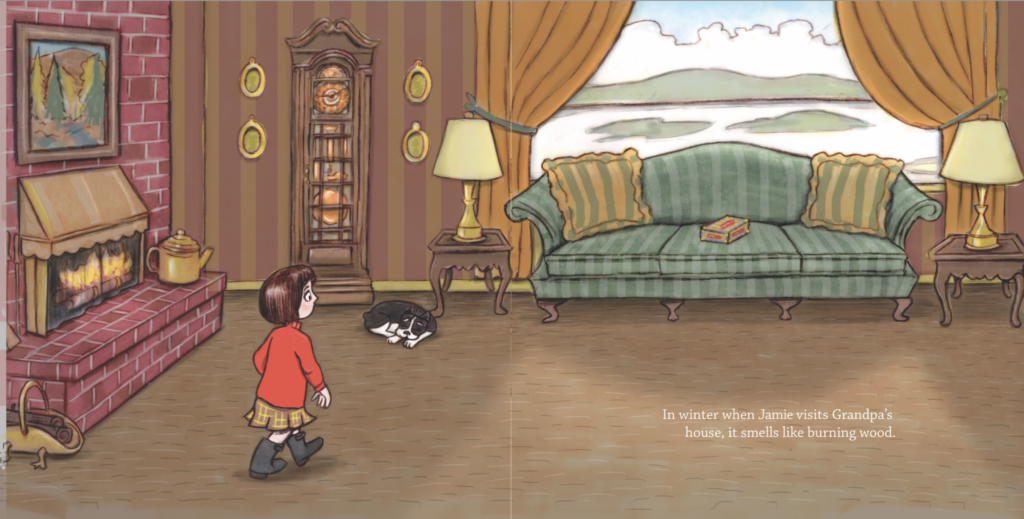 Then I sent Michael pictures of the family room fireplace and my mother's antiques. He incorporated them in this spread where Jamie discovers an empty cigar box and a missing Grandpa.
BRILLIANT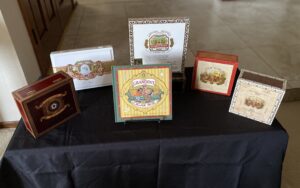 How shall I market my book? A friend suggested I give away cigar boxes with each book purchase. BRILLIANT! Onward to search the collectibles stores for vintage cigar boxes.
Another friend suggested I check Offer Up. BRILLIANT! I discovered a listing selling 50 empty cigar boxes for $40. Load up the car, husband. I have stacks and stacks of cigar boxes sitting in my living room. (Maybe I can incorporate them in my Christmas decorations.)
I sell my books at markets and fairs, so my display includes the beautiful wooden cigar boxes. I receive a lot of comments:
"I have one that I store buttons in."
"My grandpa used to keep his watches and cuff links in one."
Someone even told me she used a cigar box in school to store her pencils.
One of my friends bought two books, and I gave her two cigar boxes that the books fit perfectly in. She gave them as gifts to new grandfathers. The recipients were thrilled:
"They are so excited to do as the Grandpa in the book, that they are figuring out what they are going to put in the cigar box and are eagerly waiting for the grandkids to visit."
I have such brilliant friends.
CIGAR LOUNGES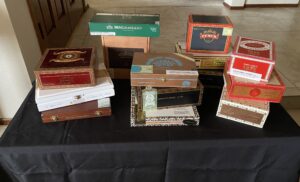 Where do these Offer Up sellers get their cigar boxes?
Cigar lounges.
This is a totally different world I didn't know existed. I visited one near my house, and as I coughed my way through the men lounging in recliners, I spotted a ceiling-high stack of empty cigar boxes. After putting the cigars in the walk-in humidor, they sell the boxes for $2 each and donate the money to Cigars for Warriors, a non-profit that sends care packages to troops overseas.
IT TAKES A VILLAGE
As the saying goes, "It takes a village . . ." The rest of the saying is ". . . to raise a child." I guess you might call my book, my child, because it took a village of friends, critique partners, and one astute illustrator for me to finally publish Grandpa's Cigar Box. I hope reading my book provides a positive message for children to value and respect the village of parents and grandparents who raise them.
WHERE TO PURCHASE GRANDPA'S CIGAR BOX
Renner Writes Website online
Barnes & Noble online and on the shelf at the Dana Park Village Square store in Mesa, AZ
Powell's online
Half Price Books online
Changing Hands Bookstore online
Target online
Walmart online
If you like Grandpa's Cigar Box, please leave a review on Amazon.com.