ADVENTURER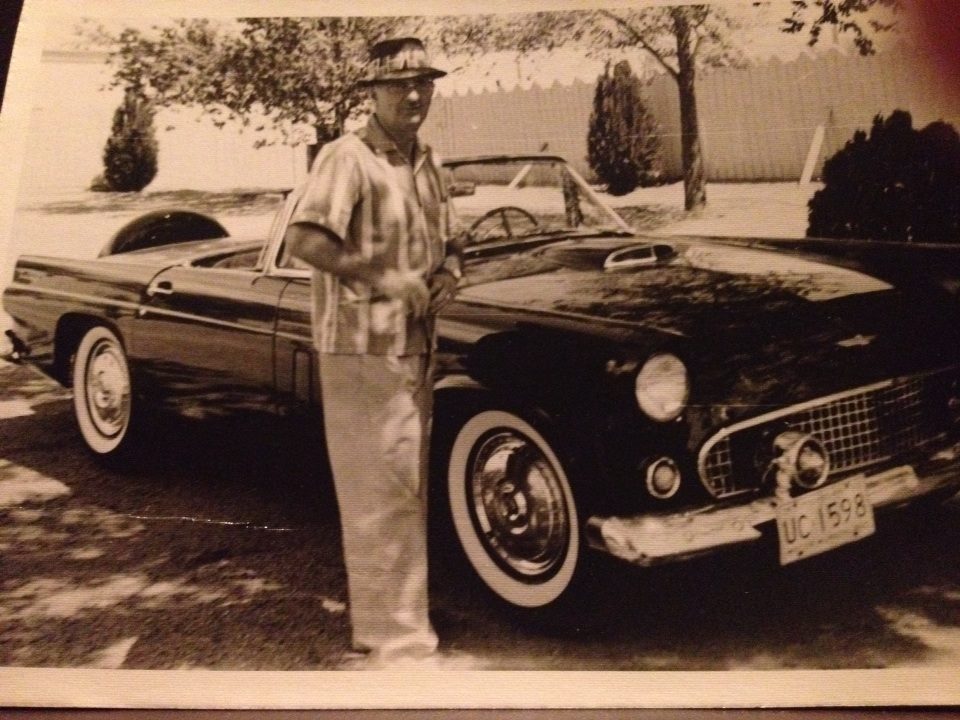 My Dad was an adventurer. He was born in 1912 in Detroit, Michigan, the automobile capital of the world. He was wild, he was fearless, he knew how to have a good time.
Swimming in nearby Lake Huron kept him and his buddies busy. They challenged each other to dive as deep as they could and explore sunken ships. No, they didn't have scuba diving equipment; yes, they held their breath – for a very long time. One time my Dad swam inside a ship and didn't calculate his time correctly. He searched and searched for a porthole, and found one just as he couldn't hold his breath any longer.
He and his buddies were members of the Polar Bear Club. Every year from November to April, they took the Polar Bear Challenge by swimming for 10 minutes once a week in the icy lake water.
BLIND DATE
My Dad, John, met my Mom, Dorothy, on a blind date. His buddy drove a 1930-something Ford. After they picked up Dorothy, they sat in the rumble seat. I wish I had paid more attention to the stories, because I don't know where they went on their date. Mom was a preacher's kid with five siblings; Dad was a prankster and an only child. She must have loved the "bad boy" image he depicted. Mom called Daddy, Jack; Daddy called Mom, Dottie.
Daddy's first car was a Model T Ford. He told me about the Michigan winters and icy roads. He parallel parked by pulling up to the space, slamming on the brakes, turning the steering wheel, and sliding into place between the two other cars. He loved driving around with his best friend, an Airedale named Laddie, draped on the seat by his shoulder.
After John and Dorothy were married in 1936, he contracted a lung disease. The doctors thought it was tuberculosis, and he spent a year in a sanatorium (hospital). It wasn't tuberculosis, but they removed half of one lung anyway. His doctor told them if he wanted to live past the age of 55 he should move to a warmer, dryer climate. In 1943 they packed up the car, bundled up their baby, my brother, and drove to the Southwest. Albuquerque was their final destination, and that was where I was born.
BUTTONS
Buttons is the endearing name my Dad called me because of my big brown eyes. I was pretty much the apple of his eye, and he liked to tease and make jokes. He'd pretend to pull his thumb off and tell me I was "full of beans" if I was acting silly. He'd be the designated driver when he took me and my girlfriends to the skating rink. Our giggling in the back seat must have gotten on his nerves, but he just laughed and called us "you silly girls." He liked to make up names, and my favorite was someone called Professor Lucifer Garibaldi Hiapopa Pana Transavonavisky Herziagog Butts Green.
Because of Daddy's love of water, we always had a swimming pool. He taught me the freestyle stroke and how to make turns like the Olympians back then. He loved to show off by floating on his back and then unconsciously rolling over to his left side. This was because the right side was the one where the doctors removed half of his lung, making the left side heavier. After I moved out, he had the diving board removed and a slide installed, for his sliding pleasure into the pool.
CARS
Daddy knew his cars and loved to wheel and deal at the dealership when purchasing a new one. He bought a 1956 Cadillac Coupe Deville, which burned up on a trip to Michigan. I thought it was my fault because I was demonstrating to my cousins how to push in the cigarette lighter in while we were sitting in the back seat. He traded that in for a 1959 Cadillac. He owned a 1960 T-Bird and the Lincoln Continental Mark IV series. He bought my brother a 1965 Mustang convertible, which I got to drive to college when my brother moved out.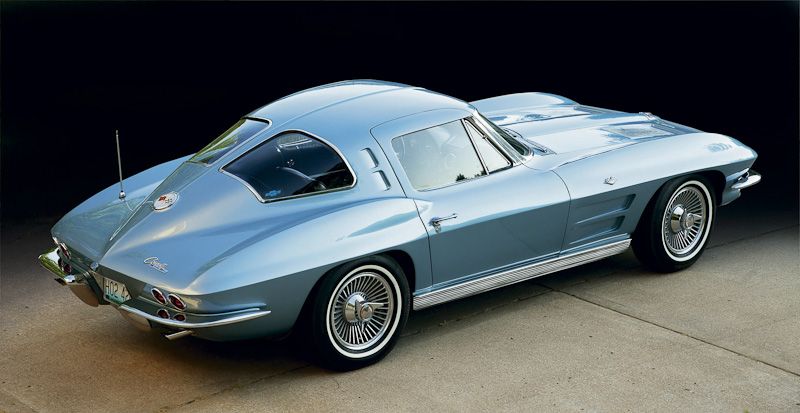 Daddy's mid-life crisis car was a silver blue 1963 Corvette Sting Ray with a split window. He and my Mom flew to Detroit and to pick from the first ones to roll off the assembly line. He also wanted to break it in properly, whatever you did with cars back then, by driving it cross country from Michigan to New Mexico. There wasn't much of a back seat, none actually, so I squeezed my teenage body below the split window whenever we went out. When I turned 16, Daddy let me drive it. That was thrilling, to say the least. I'm glad I didn't wreck it like I did my 1963 Corvair.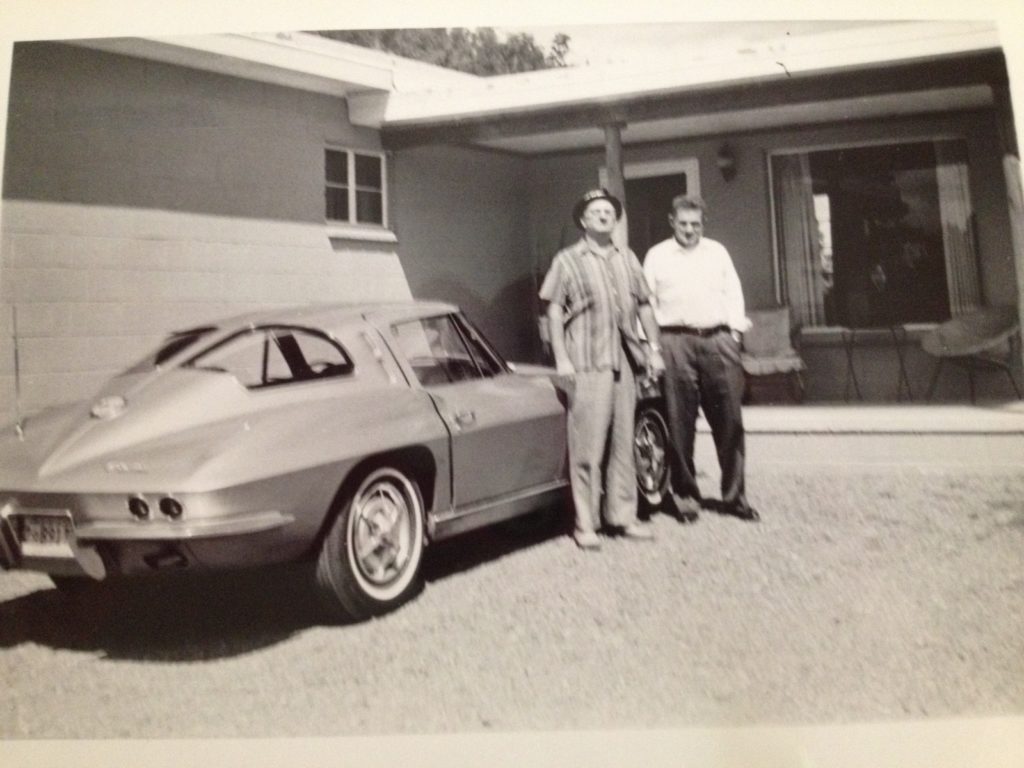 GRANDCHILDREN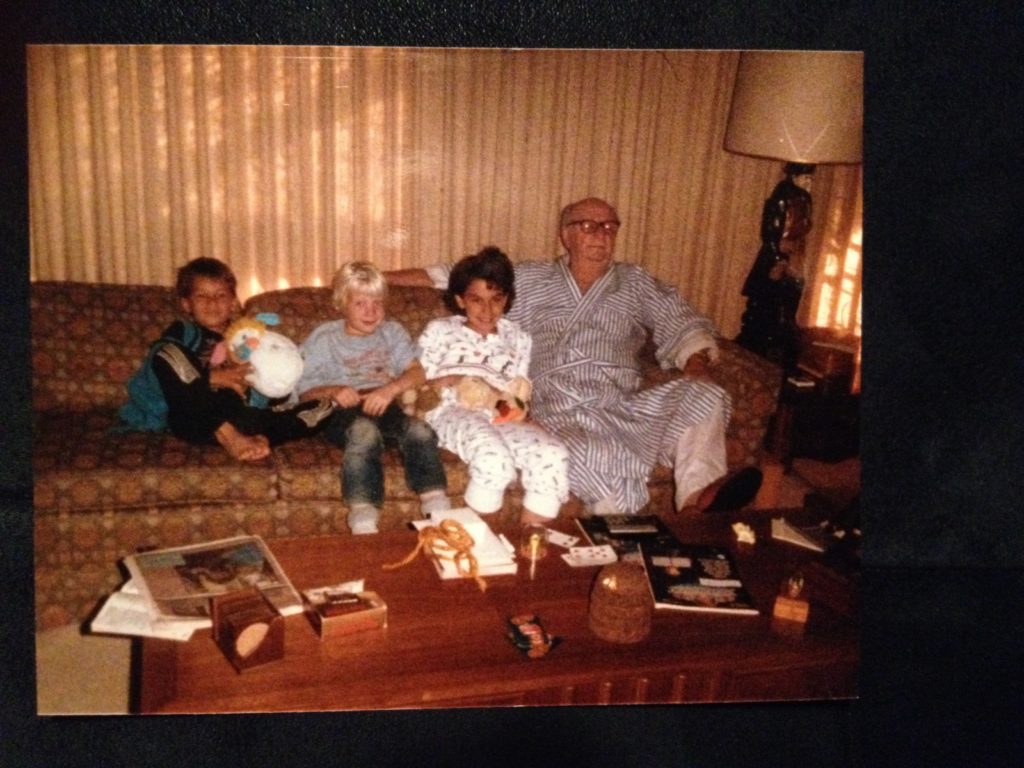 Daddy's grandchildren loved to visit because of the fun things they did together. They sat on the sofa and watched cartoons. They swam. They hunted for snails in the backyard. But the most fun of all was Grandpa's Cigar Box. Grandpa hid special treats and trinkets in an old cigar box hidden in the coffee table drawer for the grandchildren to find when they came over.
GONE BUT NOT FORGOTTEN
My Dad passed in January 1994 when he was almost 82 years old, way past the projected age of 55. He lived a full life doing what he enjoyed most in life. He was devoted to his family, he was an entrepreneur, he played pool with his buddies, he swam with his children and grandchildren, he bought a boat and an Amphicat to take to the lake, he cruised and traveled the world, and the list goes on. I loved my Daddy and miss him dearly. I learned a lot from him, but I guess what I remember the most is have a good work ethic, enjoy life, laugh, tell stories, and wear a colorful shirt when eating at an Italian restaurant so the spaghetti sauce won't show when you spill.
GRANDPA'S CIGAR BOX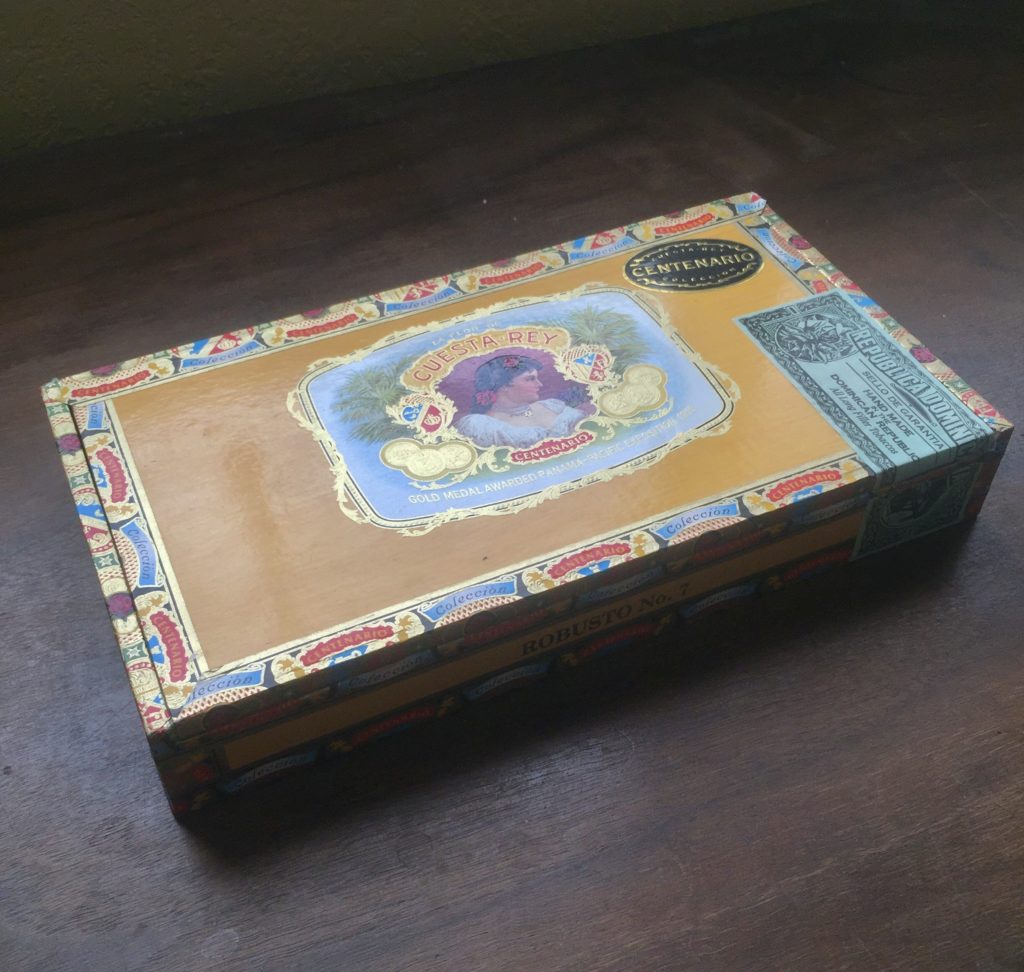 I've written a manuscript that I want to publish about my Dad's special surprise box he had for his grandchildren. My original title is GRANDPA'S CIGAR BOX, but my critique partners don't think it's appropriate to have reference to smoking in a children's book. What do you think? GRANDPA'S CIGAR BOX or GRANDPA'S SURPRISE BOX?
BOOKS FOR SALE
In my book, LONNIE THE LOON LEARNS TO CALL, Lonnie's Dad teaches him all the Loon calls. I recently revised this book, and it is now available for purchase. All my books are discounted to $9.99 each if you buy them from my website. I'll personalize and sign each and every one and mail them to you.