Camping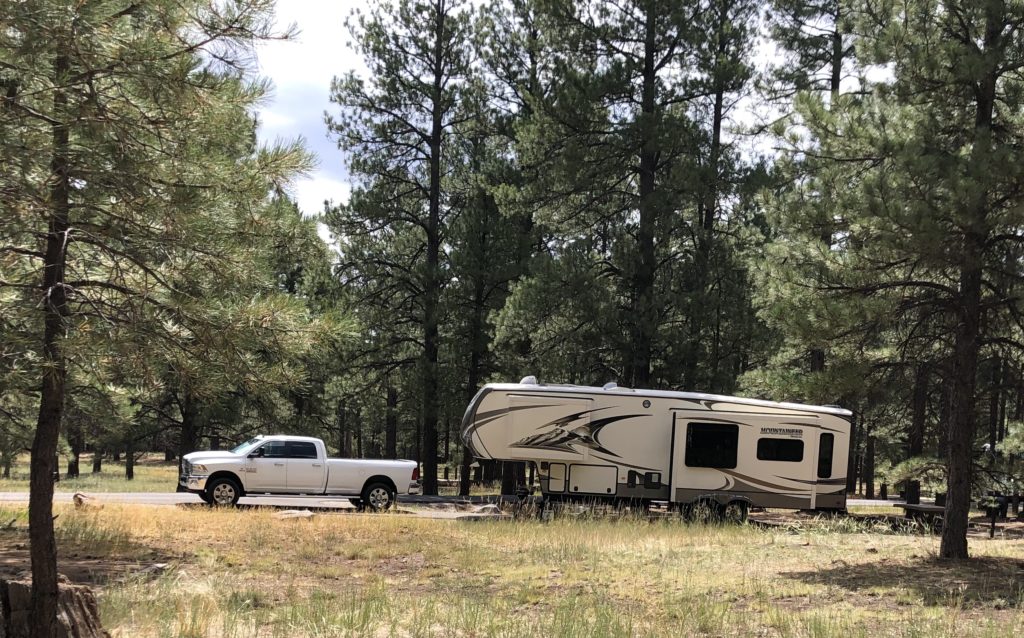 Hubby and I went camping last week. Okay, we pulled our fifth wheel into the cool pines of the mountains. Don't judge. We're old. We've paid our dues camping in a canvas tent that smelled like the inside of a Marine's boots; in a pop up, where we almost froze to death on Virginia Beach; in a cabover that Hubby backed into a tree; and a small motorhome where it rained on my bed while I was sleeping. We still call it camping because we can roast hot dogs and marshmallows over a campfire, tell ghost stories, and fish, if camping by a lake.
Arizona Geography
Arizona's geography is unique because it goes from the valley of hell up to an elevation of 12,000-foot extinct volcano down to a huge hole in the ground. Let me explain. The valley of hell is Phoenix, nestled in a valley in the middle of the Sonoran Desert. The average summer temperature is 106ºF degrees, but usually hovers around 110ºF. I previously wrote about our summer heat here. The 12,000-foot extinct volcano is Humphrey's Peak near Flagstaff. You can see snow up there almost year-round. The huge hole in the ground is, of course, The Grand Canyon. Now, doesn't that just make you want to come visit Arizona?
Back to Camping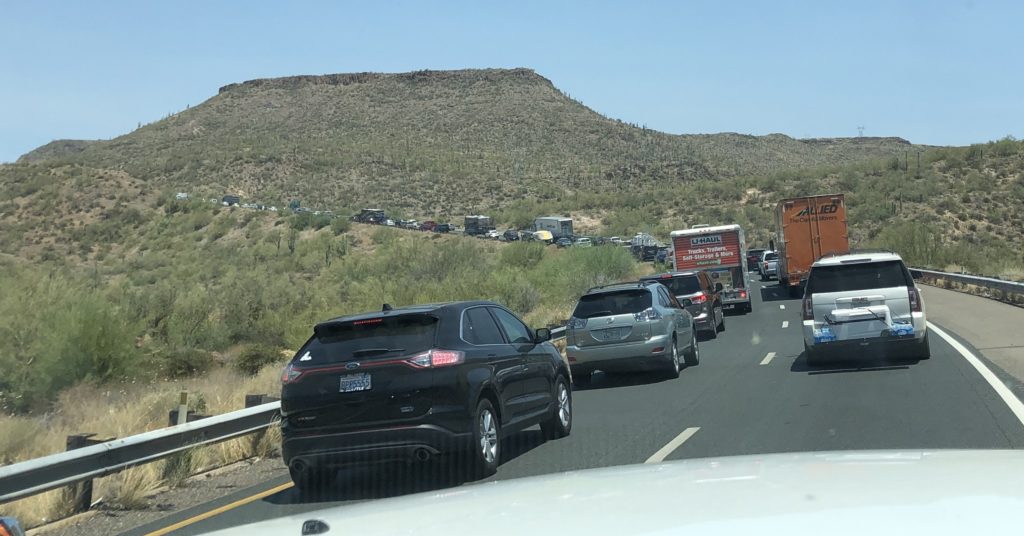 Back to camping. As you might deduce, Phoenix residents flee Phoenix when it's 110ºF and drive 200 miles north where it's 40 degrees cooler. The caravans up the hill on the weekends are real, starting Friday afternoons and coming down the hill Sunday afternoons. Lucky for us, Hubby and I are retired, so we don't have to join the caravan north on the weekends, we can drive up on a Tuesday and down on Friday.
Fishing
Hubby loves to fish. That's one of the reasons we used to have a summer home in Minnesota, because it's the Land of 10,000 Lakes. The Arizona mountains have beautiful lakes, but they don't contain the monster fish like bass and northern pike of Minnesota. Baby fish like trout and sunfish are about all you can pull out of the mountain lakes. What about me? I like to fish – from a boat, casting for those fighting bass. Fishing from a dock watching that stupid little bobber is not my idea of a fun time – it's boring.
So, on our little camping adventure, we planned to do a little fishing.
Communicating
I need to mention here Hubby's and my challenge of communicating with each other. The line from the movie, Cool Hand Luke sums it up pretty well: "What we've got here is failure to communicate." After loading the fishing equipment and cooler in the truck, I lock the trailer and climb aboard, thinking we are going to rent a little aluminum boat at the lake store, just like we've done before.
Hubby, "Where's the dog?"
Me, "In the trailer."
Hubby, "Go get him."
Me, "We can't take him on the boat."
Hubby, "We're not getting a boat."
Hmmm, okay, I was really looking forward to trolling for some rainbow trout. This means one thing, we'll be fishing from shore – boring!
Fishing from Shore
Hubby parks in the parking lot and heads down to the lake to look for the perfect spot on the shore. I follow, juggling the dog's portable water dish in one hand, the dog's leash in the other hand, and a folding chair under my arm. Dog is excited and pulls me in a forward motion – I have no choice but to follow, dodging the rocky and exposed pine tree root terrain. Once Hubby determines the best location to catch our limit, I tie the dog up and unfold my chair on a somewhat level spot. To my dismay, the closer to the water, the rockier the shore. That means I have to position myself catawampus on two different levels of boulders.
Before I continue, I have to mention that I tend to fall down – a lot. You can read about some of my superb acrobatics here. In fact, my falling downs are so spectacular, I'm considering suggesting it as a new Olympiad sport.
Now, back to fishing. I bait my hook, unlatch the bail reel, take back the rod, and cast. As a result of my exuberant cast, I lost my balance. The boulders I was steading myself on started moving like giant sea turtles heading to the ocean. My arms flew around in circles, I tipped to the side, my feet flew up over my head and appeared to be walking up to the sky, and down I went, crashing my elbow on the only flat rock within a half mile (where was that one when I was looking for a place to stand?). Hubby stood there and stared, rolling his eyes like he knew it was bound to happen eventually. The other fisherman pulled in their catch, oblivious to my gymnastics. The dog licked my face. I wasn't hurt, but the hardest part was trying to get upright. I'm pretty sure the Russian judge gave me a 9 on form.
That's All
That night we cooked hot dogs on a portable grill.
That's all. That's our camping trip . . . until next time.
Turkey Vultures
While camping, we discovered some trees where turkey vultures perched at night. It was quite a site watching them fly to their night-time posts in the evening. I counted eight. Do you see them?
Books for Sale
I honestly plan to publish a humorous book about all our RVing and Camping escapades, but until that time, I have some other books for sale – mostly about birds. (Maybe I should write a book about the turkey vultures.)
All my books are discounted to $9.99 each if you purchase them from my website. I'll personalize and sign each one and mail them to you.