Autumn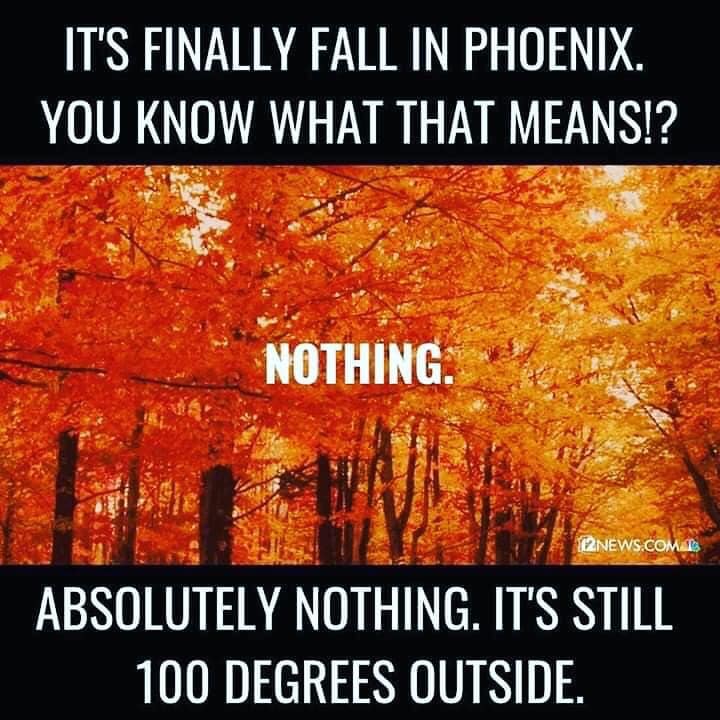 "Have you put out your fall decorations yet?" asked Cousin Linda. I replied, "Sweetie, it's 100 degrees out. I hardly feel like putting pumpkins on the porch so they can shrivel up like dried apple heads." Besides, there is no Autumn in Phoenix. We have two seasons, spring and summer.
I'm not much of a decorator. My cousin, on the other hand, is a master designer, and she loves decorating her house. We visited her pristine home in Wisconsin one July, and every room had some sort of red-white-and-blue-Star-Spangled-Banner-Fourth-of-July motif. Stars over the fireplace. Sparklers on the dining room table. Flag dish towels hanging from her stove. Her husband said he hauls decorations up and down to the basement seven times a year. I didn't realize there were that many holidays in a year.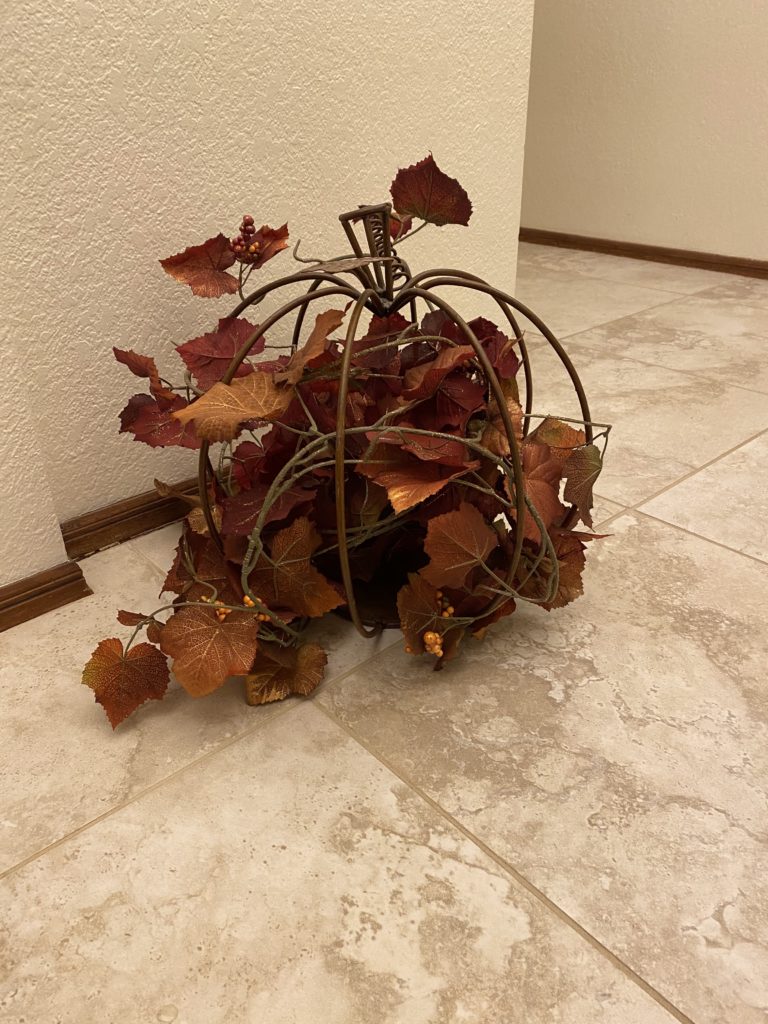 The year we visited the cousins, we went shopping to some adorable crafty boutiques. Another favorite pastime of hers. That's when I bought an iron pumpkin. I needed more Autumn decorations. It is very unique, and I love it, but I didn't know what to do with it when October rolled around. It was this pumpkin she was referring to when she asked if I'd decorated for fall yet. So, I went to Michaels and bought some Fall leaves and smashed them in the middle of the pumpkin.
Now, where do I put my little creation? I set it on the floor in the foyer. Hubby, not liking anything to disturb his strides from point A to point B, stuck my pumpkin in the living room. We all know that the living room is the Christmas room and pumpkins don't belong in there. Besides, who's going to admire it when they come over? I rescued it and used it as the center piece on my dining room table. The fake leaves dipped into son's milk, and he tossed them over to dangle in sister's tofu.
It's not that I don't like to decorate; I don't have the designer gene. I'll create beautiful arrangements in my mind, but when I put it all together, it looks like something from Pinterest gone bad. Case in point, my Quail paper plate craft. If you want to watch me make this beautiful critter, watch my YouTube demonstration.
Halloween/Thanksgiving
I was at Costco today, and they have all the Christmas paraphernalia out already. Apparently, Autumn has been cancelled. But I'm going to attempt some decorations anyway. I usually combine Halloween with Thanksgiving because I gave up the spooky ghosts and wacky witches for Halloween after the kids moved out. One year when I worked at a print shop, the kids had a blast copying their faces on the Xerox machine. (I drew the line when they hopped on the glass to photocopy their butts.) I put the copies of their frightening faces in the windows to scare the little trick or treaters. With the two holidays only a month apart, why go to the extra effort of thinking up something for both. So, my Autumn theme for October and November has been pumpkins, leaves, and a bale of hay I put outside on the front porch. I hang a fake pumpkin wreath on the door and call it a day.
Fourth of July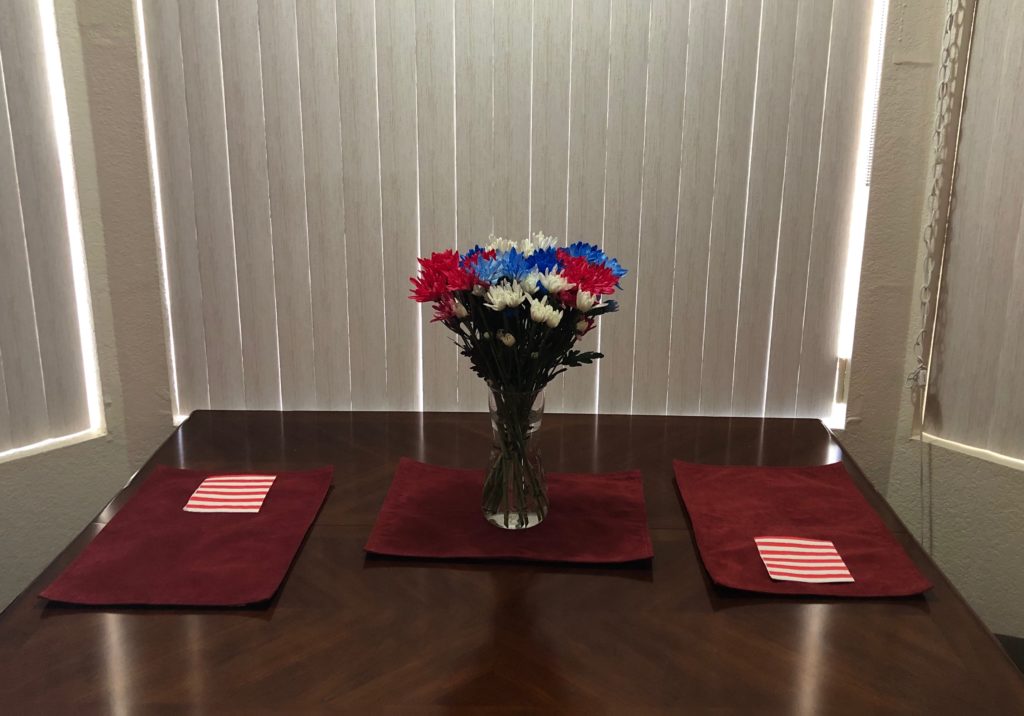 I'm not going in chronological order here, much to the distress of my linear OCD thinking, but I wanted to mention that I was going to write the blog about my horrible decorating skills in July. Cousin Linda and I were talking about Fourth of July decorations, and I told her I actually bought some red, white, and blue flowers at the grocery store and stuck them in a vase. That was going to be the extent of my decorating, but then discovered I had some red placemats and red & white striped cocktail napkins hiding in the pantry. I thought I did pretty good until Linda sent me photos of her home.
Christmas
Christmas is my holiday. Besides, it's the only time we use the living room, and it gives me an excuse to clean it. I start decorating the day after Thanksgiving, and armed with a rum & eggnog, I assemble and decorate the artificial tree while jiving to Christmas carols on Pandora.
The lights have to be hung in a certain order, and the same color of bulbs can't be next to each other. I've been known to start over several times because of the OCD monster that dwells inside my deranged mind. Next come the ornaments. I have 50-year old ornaments, baubles my children crafted when they were little, and treasures I've collected from my travels to a variety of countries – so many memories dangling from those limbs. The tree is loaded, and every ornament has its place. A few days later, I mix myself another eggnog, remotely click on the lights, and sit in the living room enjoying my creation.
My entire house is decorated in red and green. I have the Santa Claus collection on my piano, a gaggle of snowmen nestled next to the sofa table, and a sundry collection of cranberry wreaths and hand-crafted items hanging on the walls.
Valentine's Day, Saint Patrick's Day, Easter
It's pretty much the same with these holidays. A wreath on the door and a table runner in the dining room. I have one nice vase and switch it out with red, green, and yellow roses, depending on the holiday.
Maybe next year I'll blog about how I convinced my kids there was a Valentine's Lamb that hid chocolate hearts in the yard and how, as adults, my kids still compete in the annual Easter egg hunt.
Books for Sale
Now is a great time to start buying your presents for holiday giving, and books make great gifts. I give my great-nieces and -nephews books every year for Christmas. You can purchase my children's picture books from my website, and I'll personalize and autograph them for you.
Free Book Bag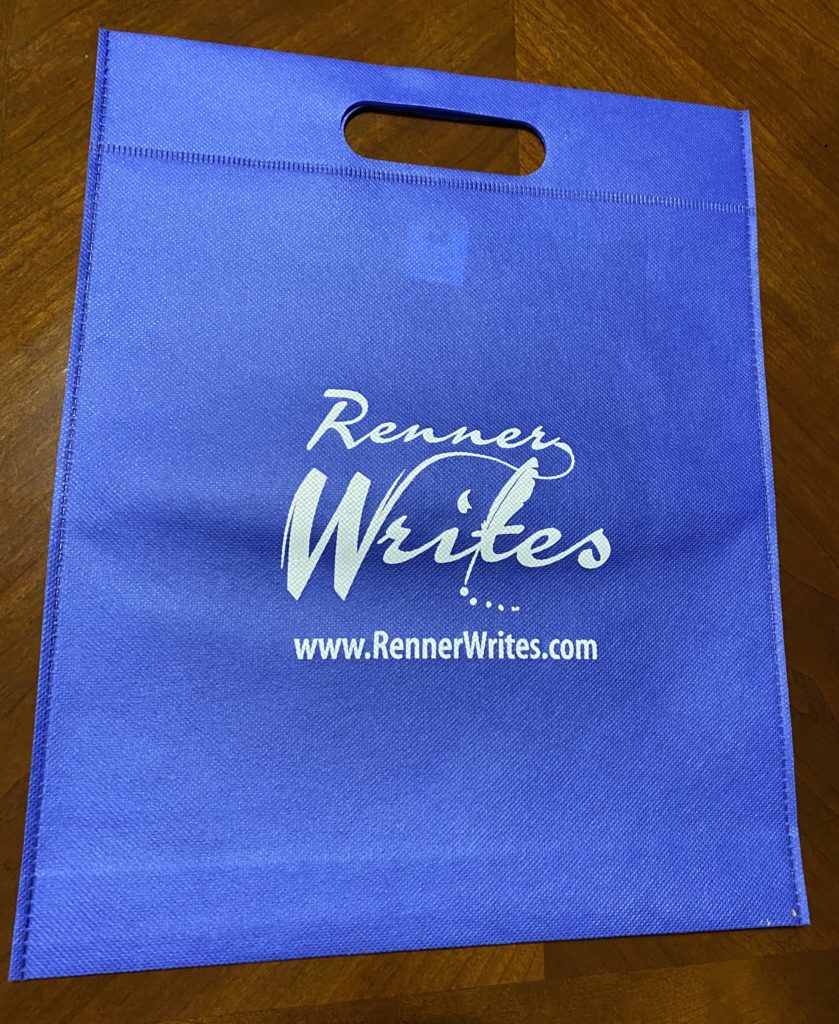 When you purchase three or more books, I'll include a free book bag so your little one can take their books to the beach, to grandma & grandpa's house, to school, to a friend's house, in the car, to the park, to the babysitter's house, or, well, just about anywhere.