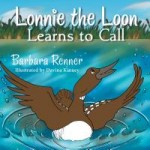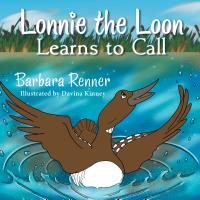 I wanted to write a picture book about Lonnie's dad teaching him the Loon calls. The Loon calls are so beautiful, I wanted to share them somehow with children, and I wanted to write another book to go along with the Lonnie the Loon series.
My first problem was to figure out how to interpret the calls into words, or letters. We can read that a duck can "quack" and a cow can "moo," but how do you recreate a melody of sounds?
There are several websites that have sounds of Loons. I settled on two: The Loon Preservation Committee (www.loon.org/voice-loon.php) and The Cornell Lab of Ornithology (www.allaboutbirds.org/guide/Common_Loon/sounds). I listened to each call over and over again; my husband and dog thought we had somehow morphed to Minnesota. I finally combined some letters to make words that, when pronounced, could sound a little like the calls. I thought the children reading the book would have fun with the words.
I was still worried about creating an authentic book with sounds. I told my idea to several people, and an author friend suggested I insert a chip, like the ones used in musical greeting cards, in each book. She gave me a website to research, but I discovered that I would have to buy 100,000 of those chips – it's hardly likely I would even sell 100,000 books in my lifetime, much less be able to revamp the cost of the chips. I also doubted if my publisher could pull that one off for me.
I finally had an ah-ha moment – I love those little light bulbs that flash in my brain. I was walking into the house with the mail in hand, and something round inserted into the junk triggered a long-lost memory of cardboard 45 records found on the backs of cereal boxes. I could actually play those discs on my little blue record player. My thought was to put the Loon sounds on paper discs and insert them in each book – but that is so 1955 – what modern technology can I use for the calls?
Another ah-ha occurred when I looked further into the junk mail and saw those little black square puzzles that are on everything these days. I discovered they are called QR Codes, and with a phone app, will take you to a link on the advertiser's website. How very 21st Century! I downloaded an app on my phone and started pointing, just to see how they worked. Yes, what came up were advertisements or special offers.
If the QR Code takes someone to a website, perhaps they could take you to a sound. I contacted The Loon Preservation Committee and shared with them my idea. I asked them if I could use the Loon sounds on their website for my book. They not only said "yes," they sent me MP4 sound files for all four sounds!
Okay, I have the sounds, now how does that dang QR Code work anyway? How do I put the sounds on my website? How do I direct the code to my website? So many questions that I didn't have the answers to. So I called tech support, my son, Brian. He put the sounds on rennerwrites.com and created the QR Codes for my book – genius!
When I got the proof from my publisher's designer, I tested all the codes with my handy-dandy little app. They worked! All the person reading the book has to do is press the black sound bar on my website when the QR Code Reader takes you to the correct page.
I'm so excited to have Lonnie the Loon Learns to Call in hand. I must give credit where credit is due, so I included a resource page in the book listing my son's business and the Loon websites.
You can listen to the sounds of the Loon by clicking on Hoot, Tremolo, Wail, and Yodel:http://www.rennerwrites.com/sitemap/.
Oh, and buy my book!! You can contact me through my website, www.rennerwrites.comor by clicking on http://booklocker.com/books/7898.html
A review on Amazon.com would be awesome too!!