Award-Winning Author/Illustrator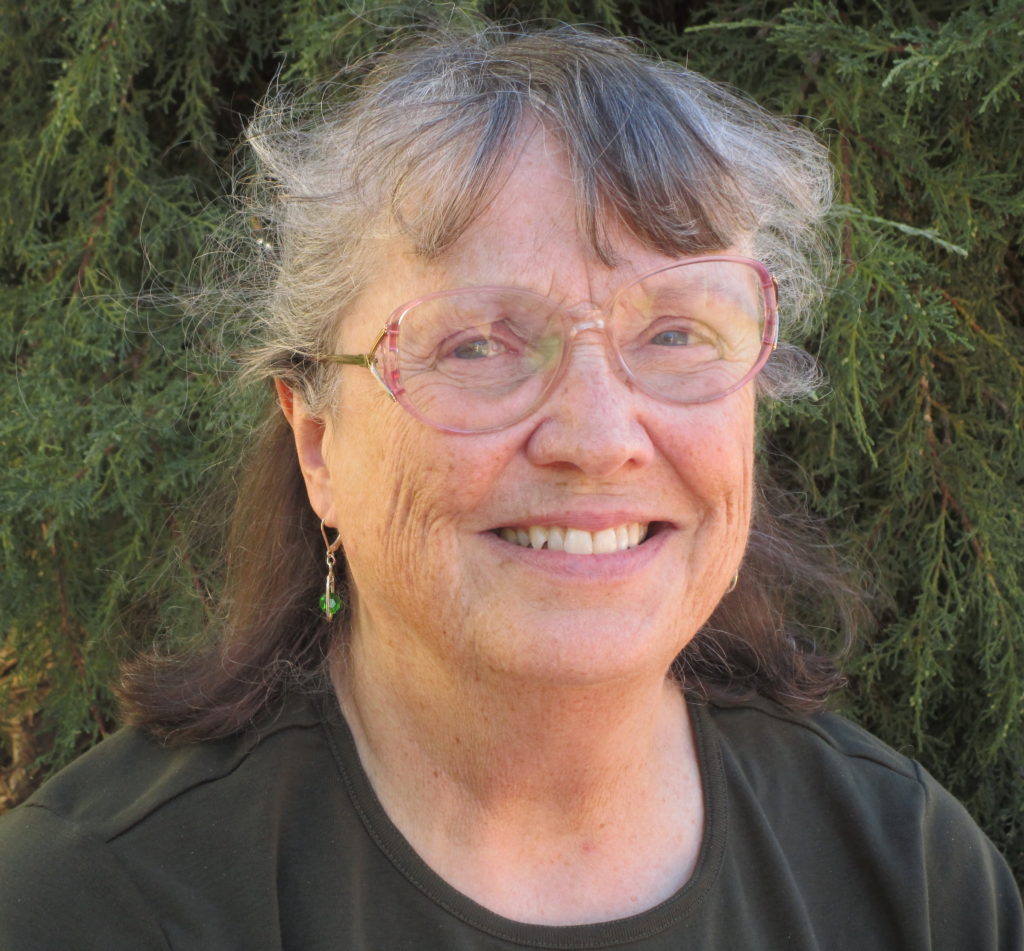 I interviewed award-winning author/illustrator, Rita Goldner, and am excited to share her fascinating journey. This is the first in a series of author interviews I plan to do. Rita just published a picture book about the water cycle, which she'll tell us about in the interview.
I've purchased all of Rita's books and love them.
Costumes
Barb: Tell us a little bit about yourself and include a tidbit of information not many people know about you.
Rita: I made my living designing and sewing promotional foam costumes, like mascots or fast-food items. My husband and I had our business for 38 years (me, manufacturing and him, marketing) and sold our costumes to businesses, for them to promote a product, or stand in a parking lot, beckoning passing motorists in. We finally sold our business to our employees, and then I started getting serious about writing and illustrating children's picture books.
Barb: Look at these costumes Rita made. Aren't they darling?
Art
Barb: When did you realize that you love to illustrate and did you go through any formal art training?
Rita: I drew and painted most of my life, and my BA degree was in Elementary Education with a minor in Art. In those days, decades ago, college students' parents told them to find a career that actually paid a living wage, and that was not Art! However, my love of doing creative things helped me in my costume business. Besides the 3-dimensional designing, with foam glued together, I had to submit 2-dimensional drawings of my proposed characters to potential customers. That's probably why my illustration style evolved as kind of cartoonish.
Orangutan, A Day in the Rainforest Canopy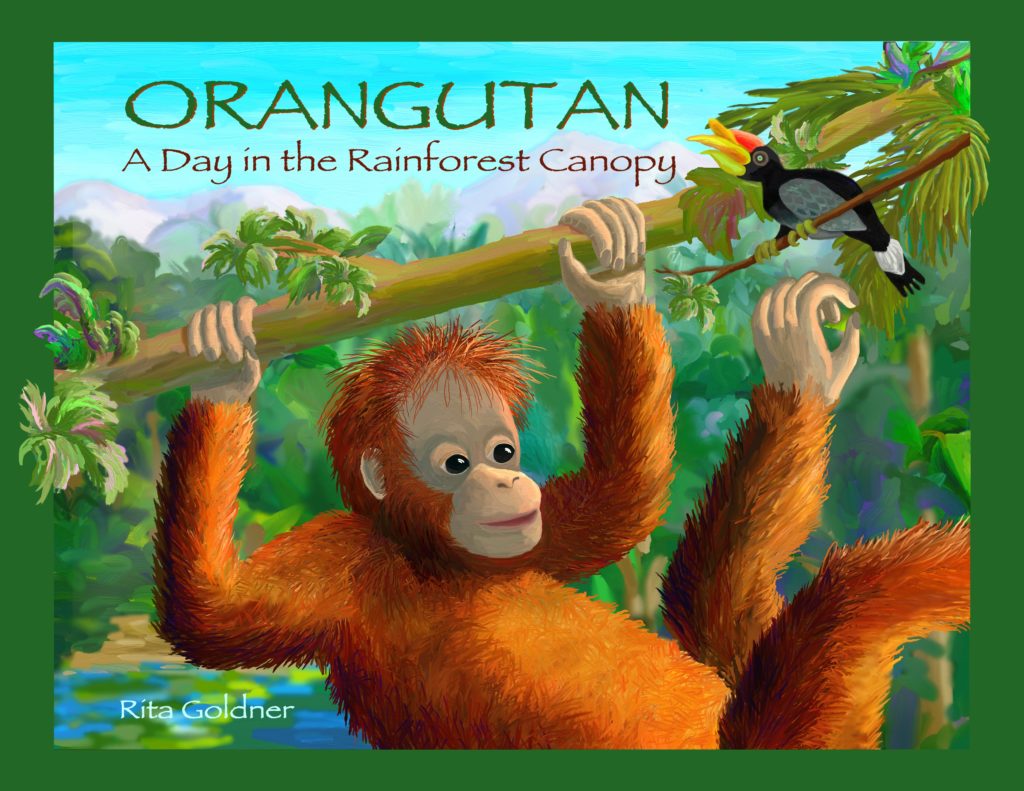 Barb: Was Orangutan, A Day in the Rainforest Canopy the first book you published as an author/illustrator? Why did you choose to write about Orangutans?
Rita: No, I had already published 2 e-books with the help of a man I met at an SCBWI convention. He was a successful radiologist getting ready to retire, and wanted to explore his geeky side. He loved computers, and wanted to meet an author/illustrator so he could publish e-books. We were both just in it for the fun (not a good business model) so I wrote the stories and illustrated with watercolor (now I do it digitally) and he put them in the correct format and uploaded to Amazon. Neither of us knew anything about marketing, so they have been languishing there for 6-7 years. He since lost interest and moved away, so someday I'll resurrect them and make real books out of them.
I wrote "Orangutan" after sitting on a folding camp chair for several years at the zoo in front of the orangutan exhibit, drawing and painting from life. I grew to love them, and realizing that they were in serious trouble, did some extensive research, and wrote/illustrated the book.
Agent H2O Rides the Water Cycle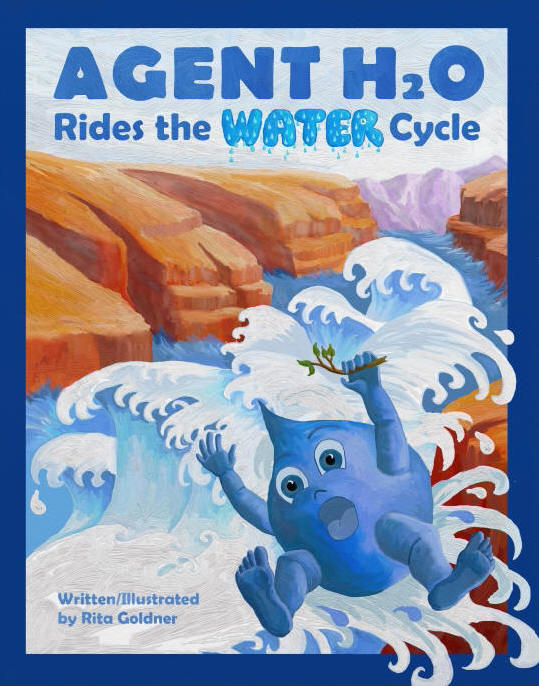 Barb: Agent H2O Rides the Water Cycle is the second book you published as an author/illustrator. Tell us a little bit about this book. How long did it take from concept to receiving the first copies of your book? What was the biggest challenge in writing this book?
Rita: This book is about a secret agent on a mission to hydrate plants, animals and people. He hitches a wild ride on the water cycle, changes disguises (ice crystal, vapor, liquid water) and evades his evil nemesis, Scummy Pollution.
It took me about a year from concept to printing. That year included a lot of critiquing and professional editing. My editor suggested I change it from third-person to first-person point of view, which helped it be more lively.
My biggest challenge was that it was educational, ergo possibly a boring subject matter: earth science, the water cycle, environment, pollution. I used the illustrations and first-person adventure story to make it whimsical and funny. I judiciously avoided anything preachy: conservation, sustainability, ecological responsibility, etc.
Spring! Time to Build a Nest, A Story about Trumpeter Swans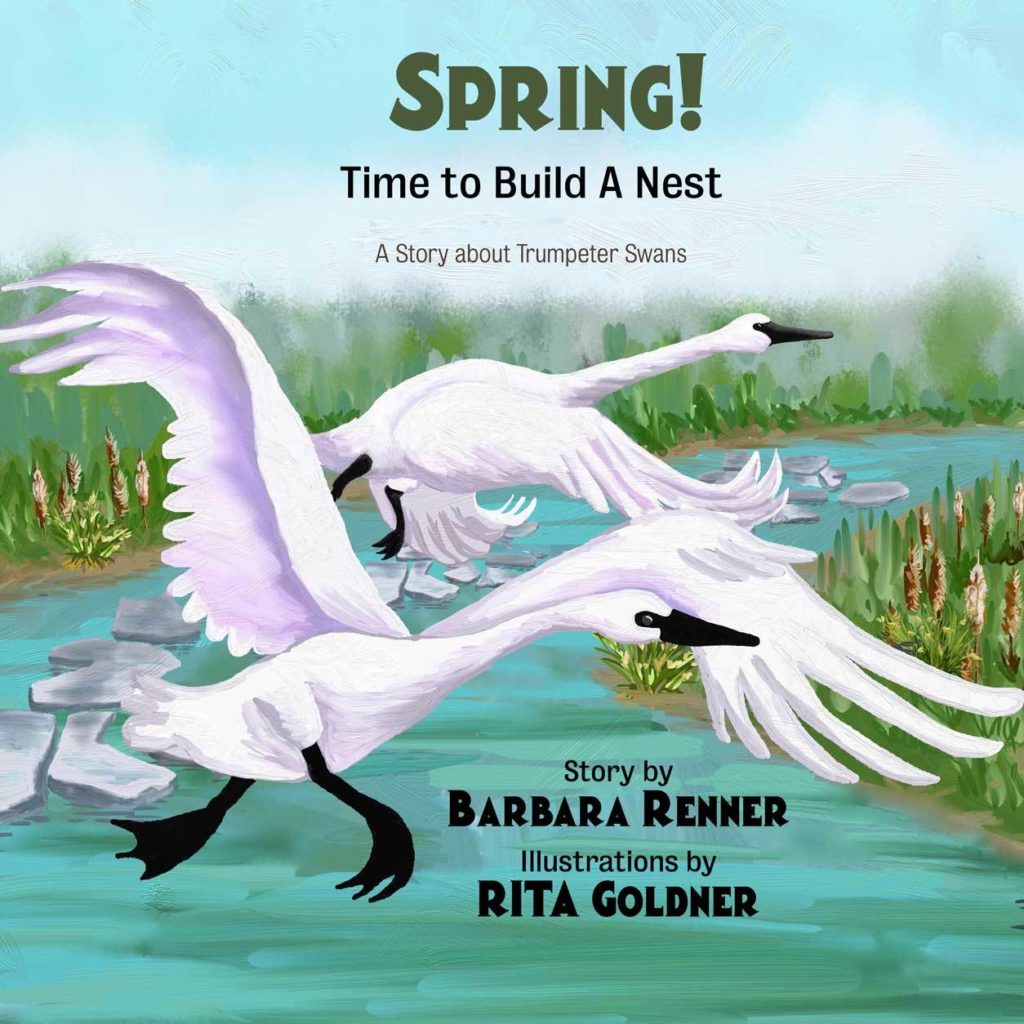 Barb: You illustrated Spring! Time to Build a Nest, A Story about Trumpeter Swans and are working on the illustrations for a second book about Trumpeter Swans. What has been the most challenging in regards to illustrating these books?
Rita: I'm nuts about animals, so I love drawing them. Luckily for me, the author (Barbara) has written such engaging stories, that I get lost in them, sometimes finding myself even giggling while drawing some of the funny scenes. The only challenge is that there is one main protagonist, and the subordinates (siblings) look a lot like him, so I have to be careful about continuity in body proportions, color, and facial expressions. Now that I mention it, facial expressions are tough, on a swan. Fun, though.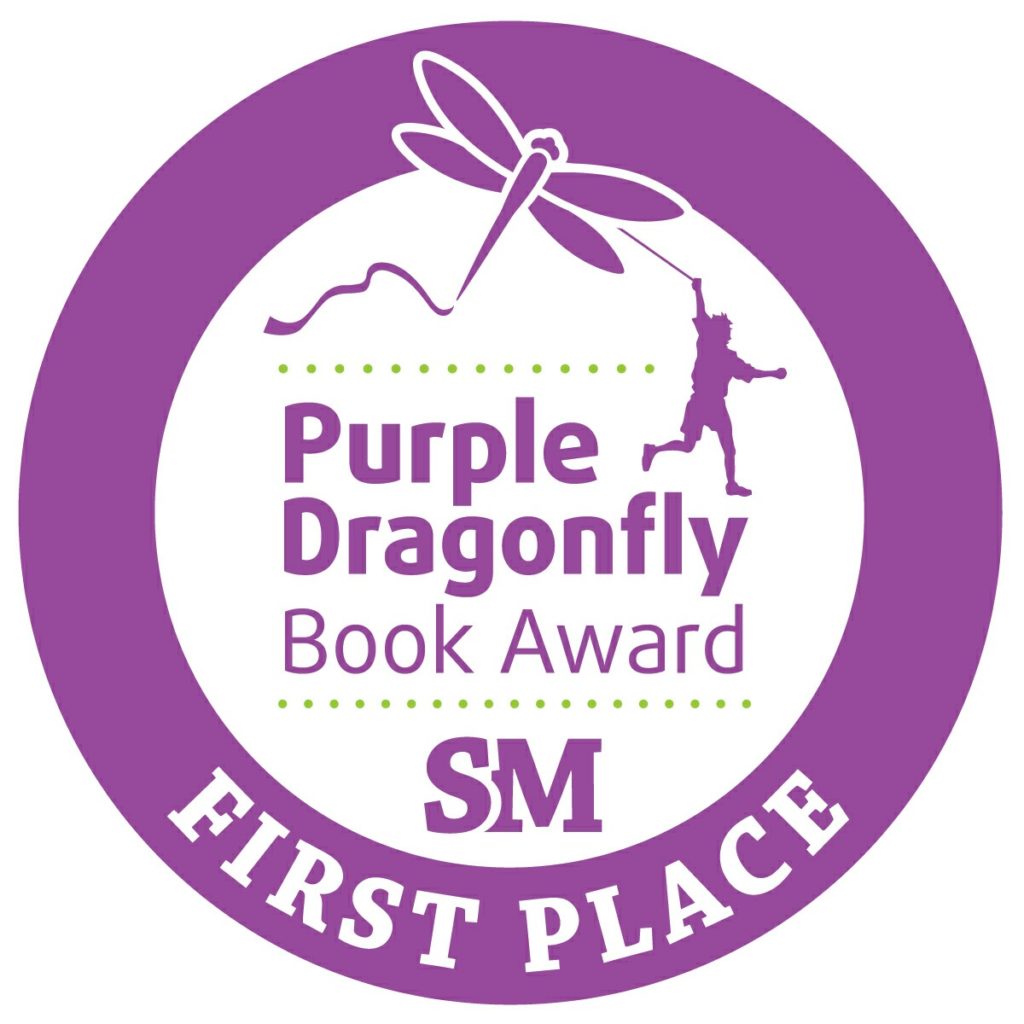 Spring! Time to Build a Nest, A Story about Trumpeter Swans won First Place for illustrations in the 2019 Purple Dragonfly Book Award Contest.
Advice
Barb: Do you have any advice for someone starting out who wants to publish books as an author/illustrator?
Rita: Hammer out the story first, before you get lost in the illustrations. An illustration, if done first, may become too "precious" to you, and you won't want to discard it, so you subconsciously try to fit the story to it. The story has to be strong and entertaining, with good flow, a great beginning, middle and end, standing on its own. Then you get to put the icing on the cake with the pictures.
One big advantage author/illustrators have is that when they're writing a part where they know they'll later be "showing, not telling" with an illustration, they're not tempted to be overly descriptive.
Follow Rita
Summer! Time to Search for Food, A Story about Trumpeter Swans
Rita is illustrating my second book in the series about Trumpeter Swans. This is a story about a little swan named Cygie, who wants to dive for his food like his family, but the water rushing up his nose stings. Cygie sets out on a quest to find something to eat but discovers the lake is not a friendly place for a hungry baby swan out on his own. Will Cygie ever satisfy his growling stomach?
Summer! Time to Search for Food, A Story about Trumpeter Swans will be available for purchase summer of 2020. Leave a comment below if you would like to pre-order your copy.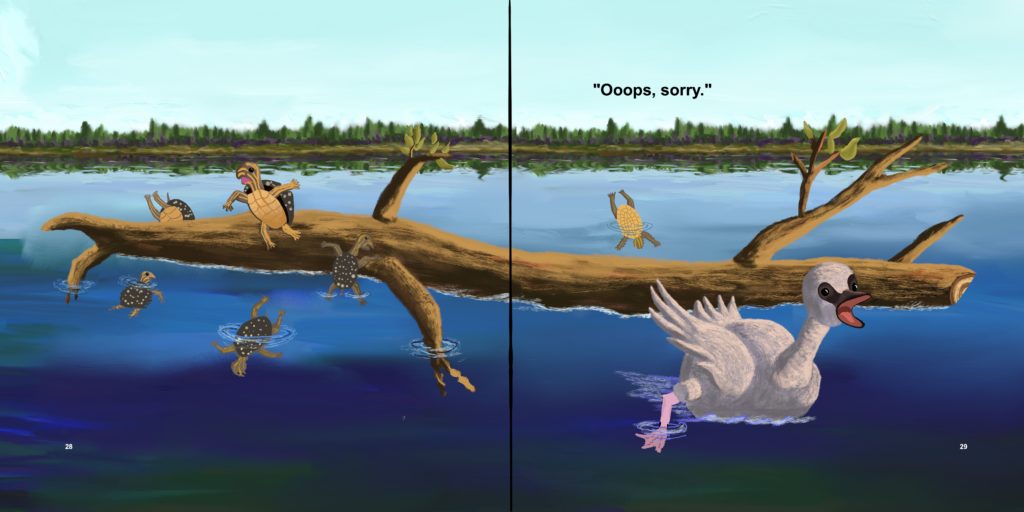 Books on Sale
All my books are discounted to $9.99 each if you buy them from my website, including my first Trumpeter Swan book, Spring! Time to Build a Nest, A Story about Trumpeter Swans.
I'll personalize and sign each and every book, happily don my mask, and run to the post office for fast delivery.