I'm so happy to interview author Teresa Krager. Teresa and I met at an SCBWI-AZ KidLit Mingle group where authors gather to discuss writing tips, read our works in progress, and critique manuscripts. I was thrilled to be part of her journey writing her book, Before Your Birth Day, and to celebrate with the other group members when she shared with us she had found a publisher. Her book was published in summer 2020 – one of the good things that happened this year.
Retired Teacher
Barb: Tell us a little bit about yourself and include a tidbit of information not many people know about you.
Teresa: Thanks for giving me an opportunity to share, Barb. It's been great getting to know you and being encouraged by you in our local SCBWI group.
I am a writer, retired teacher, wife, mom, and 'grammy.' I was born on an air force base in Germany and then spent my childhood in Iowa, South Dakota, and Arizona. I hold a teaching credential from Cal-State Fullerton and degrees in elementary education from Pacific Christian College and Arizona State University. With that background, I taught 27 years of mostly kindergarten and first grade. I say Dr. Seuss lives in my head, but Jesus lives in my heart. Non-secret tidbit: I have a terrible time saying no to dessert when it's placed in front of me!
Barb: I think many of us share your dessert secret.
Before Your Birth Day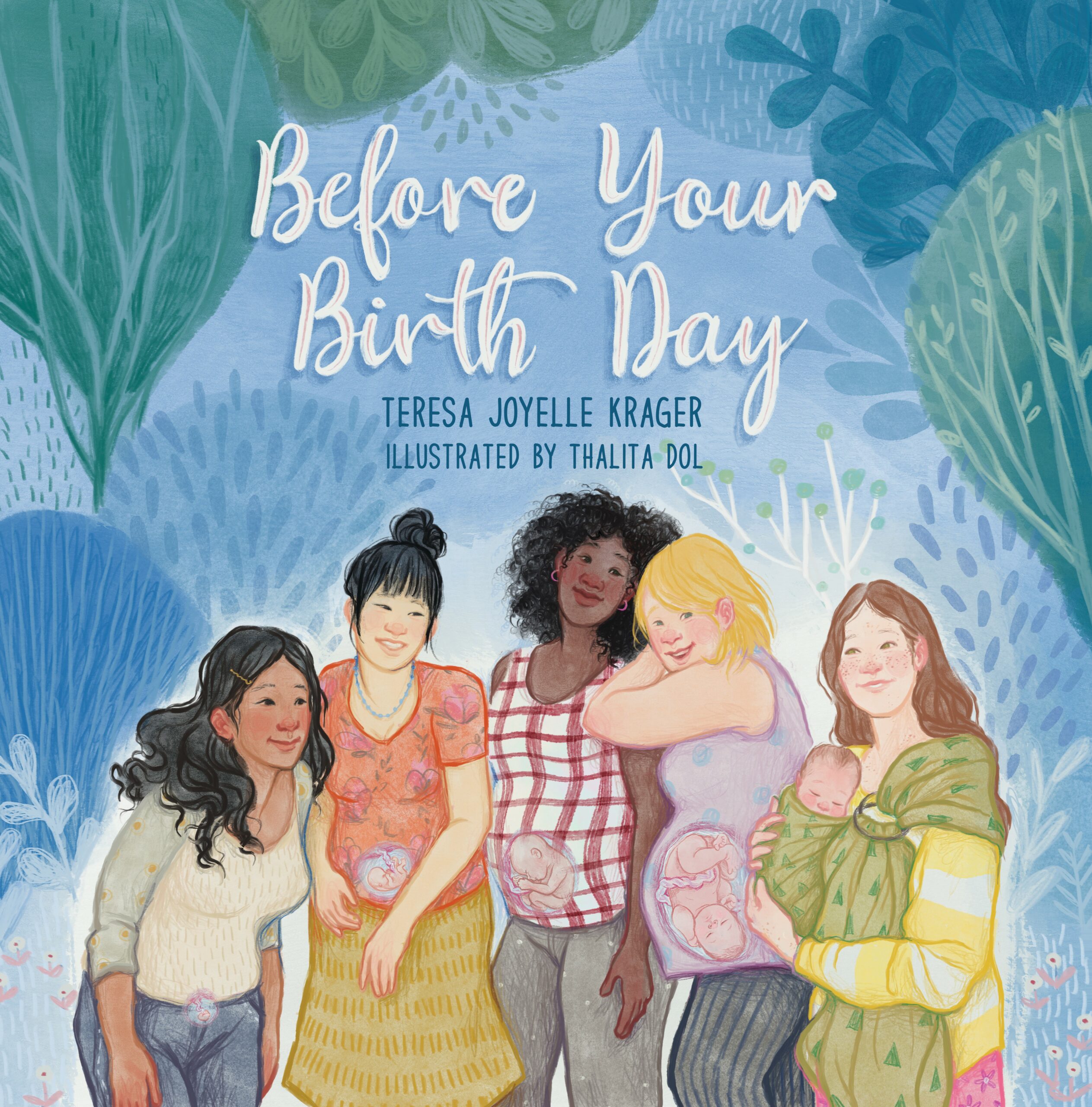 Barb: You recently launched your debut book, Before Your Birth Day. Congratulations! Tell us about your journey in writing this book.
Teresa: Before Your Birth Day is a rhyming picture book that traces the miraculous development of the pre-born baby in the womb. Perfect for baby showers, birthdays, holidays, and for those with a sibling on the way!
The idea for Before Your Birth Day was sparked in May 2018, a few months after I learned my daughter-in-law was expecting. I began to follow a pregnancy app and was amazed at the incredible amount of scientific information available. Inspired to learn more, I researched what was happening during each week of her pregnancy. I summarized and transformed my findings into an inspirational children's book.
While attending a Christian writers' conference in 2019, I shared my manuscript with an editor from Elk Lake Publishing who encouraged me to submit a proposal. They quickly said yes and after signing with that publisher and an agent, I found an amazing illustrator who specializes in babies. In July 2020, Before Your Birth Day was 'born!'
Barb: I bought one of Teresa's hardcovers for a lady I know who was pregnant with a girl. She has two sons, so I thought they'd like to see how their sister was being formed.
Reading & Writing
Barb: Your background is in education. How does this help you in writing for children?
Teresa: My years of training and experience as a primary teacher helped me understand how reading skills are developed, the process of how children learn to read, and the best practices for teaching reading. Reading aloud to kiddos provided opportunities to become familiar with lovable characters, vocabulary, word choice, humor, story plot, and voice appropriate for young learners. I think all this helped prepare me to write something children, parents, and teachers would enjoy hearing and reading again and again.
Blog
Barb: You also write a blog. Tell us about that.
Teresa: My short, weekly blog is called "Wednesday Whisper." My goal is to bring a word of encouragement, touching on something current. I blend in a spark of Scripture with life application.
Barb: Be sure to subscribe to Teresa's blog. The link is below.
Advice
Barb: Do you have any advice for someone who is starting out as a new author?
Teresa: Be brave, invest in your book, and go to conferences. While there, take advantage of the workshops. Pay for critiques and mentorships if possible. Memorize your pitch and be ready to promote your book. The connections you make could change everything.
Also, join a writer's group. This is where you can learn, grow, and be mentored. Finally, always check the publisher's website to see what and how they want you to submit. Follow their guidelines to the tee! (It's like they test you to see if you can follow directions.)
Spare Time
Barb: Tell us what you do in your spare time.
Teresa: Non-writing time is filled with family, working out, playing guitar, piano, and card or board games. I currently teach a Bible Study and help my husband lead our church small group. I also have a passion for songwriting and signing/interpreting songs for the deaf.
When I find a wink of spare time, I try to squeeze in a power nap . . . or knit.
Barb: Power nap? What's that?
What are You Working on?
Barb: Tell us what you are working on now?
Teresa: I am currently working on Adam Plus One, a rhyming picture book that takes place soon after creation. God has given Adam the job of naming all the animals, but none are up to par once Adam is looking for an actual partner. Of course, God steps in to create Adam's just right 'Plus One.'
Elk Lake will also be publishing Adam Plus One and God has provided another amazing illustrator. She is a 14-year-old high school freshman! (You will have to see her work to believe it.) Adam Plus One should be available in 2021.
Barb: I can't wait for this one.
Follow Teresa
Teresa's website, blog, and Facebook page are listed below. You can purchase her book from Amazon and Barnes and Noble. Teresa's book will make the perfect Christmas or baby shower gift.
Website for Author Updates
'Wednesday Whisper' Blog
Facebook
Amazon
Barnes and Noble
Mysterious Egg
Quincy the Quail and the Mysterious Egg is kind of a book about birth days, except it's the birth of a bird. What kind of baby is in that large mysterious egg that plops down next to Quincy and Quella's nest? You'll just have to read the book to find out.
You can purchase all my Quincy the Quail books from my website. Upon checkout, please enter your mailing address and to whom the books should be inscribed.