Book Review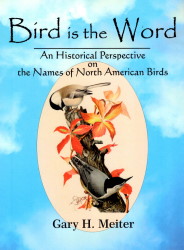 I offered to review a recently published book (March 2020) about birds. Not only because I write picture books with bird characters, but also because I love birds (except the sparrows who are draining the nectar from my hummingbird feeder). What really caught my attention was the title, Bird is the Word.
Once I received this book in the mail: Bird is the Word, An Historical Perspective on the Names of North American Birds, by Gary H. Meiter, published by The McDonald & Woodward Publishing Company, Newark, Ohio, I started thumbing through it. Right away I was amazed at how much information is included in this 448-page book. The back cover states this book is a compilation of the names of almost 800 birds found in North America. It's divided into three parts.
Part I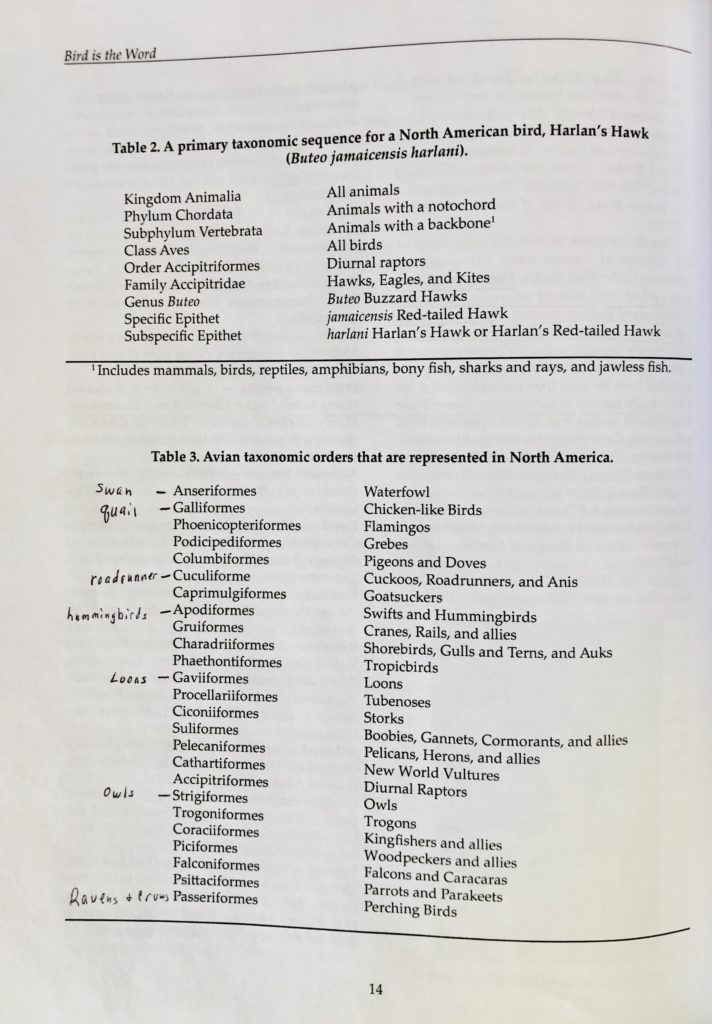 Part I discusses the discovery and recording of North American birds and includes the scope and structure of avian taxonomy. I learned how categories of birds are named, both their scientific name and colloquial names. (For example, the Mallard's scientific name is Anas platyrhynchos, but is also called Green-neck, Flutter Duck, and Wild Drake, to name a few.) In this section, I also read about the early explorers and ornithologists, and I received a lesson in Taxonomy 101, which is the process of classifying and naming biological organisms.
Please excuse my notes in the image. I wanted to make sure I marked my favorite birds.
Part II
Part II is the largest section of the book. It names the individual avian species and the historical and cultural context of their names. I had fun looking up all the birds that I wrote about in my picture books.
The Trumpeter Swan is in the Order Anseriformes, or waterfowl. It includes ducks, geese, and swans. Most of these species dive for their food. In the book I'm working on now, a little cygnet named Cygie doesn't like to dive for his food because the water stings his nose. Summer! Time to Search for Food, a Story about Trumpeter Swans will be available this summer.
Loons have their own Order, Gaviiformes, or seabird. There are several species of loons and most of them live close to an ocean. Lonnie the Loon, the main character in four of my books, is a Common Loon. Even though breeding Common Loons reside on fresh-water lakes, in the winter they migrate to the coastal areas.
Part III
Part III includes three appendixes. The first one is my favorite, a listing of collective nouns for flocks of birds. You probably know "covey of quail," or "congress of ravens," but did you know about "mob of emus" or "charm of finches"? The second appendix is a glossary of technical terms, which comes in real handy. The third one is a listing with short biographical sketches of the naturalists mentioned throughout the book.
Sidebars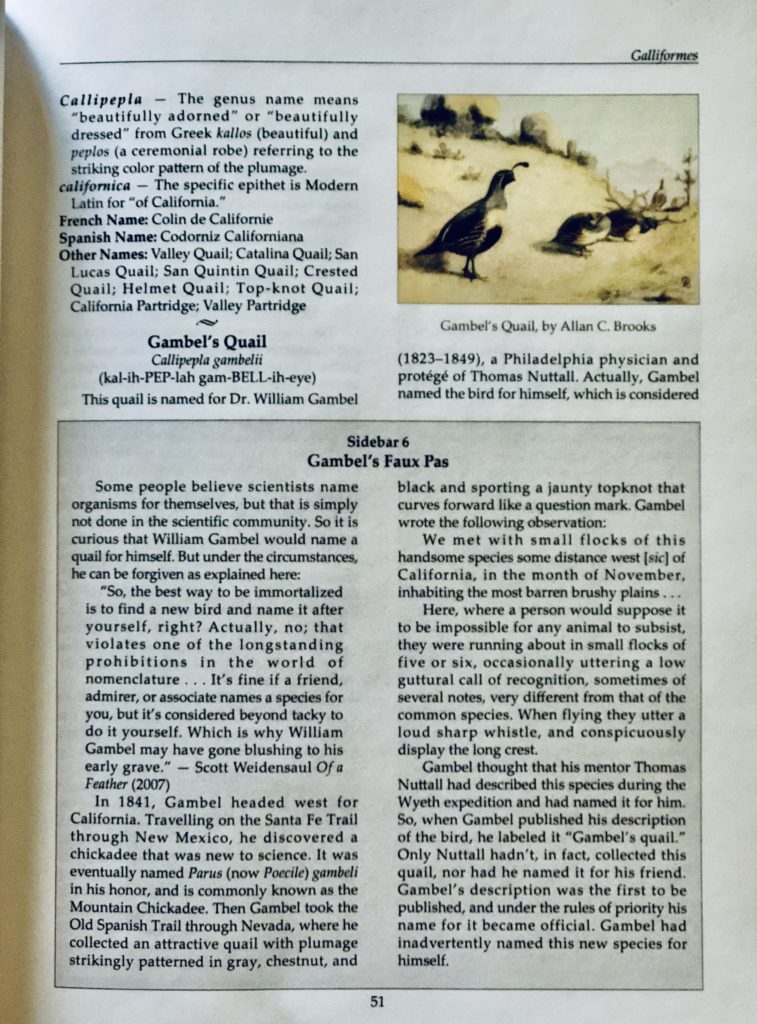 Scattered about on almost every page are sidebars that contain interesting information and stories, like the Gambel's Quail Faux Pas. And I love the color images of artwork found throughout the book.
Did you know that it's considered a breach of etiquette for scientists to name a new bird species they discovered after themselves? I thought this was interesting because the main character in three of my Quincy the Quail books is a Gambel's Quail. The Gambel's Quail was named in honor of William Gambel, an explorer of the Southwest. It was a huge misunderstanding that Gambel named this species after himself.
Bird is the Word
I really learned a lot reading Bird is the Word and highly recommend it. It is a perfect reference book for all casual bird watchers, serious birders, students of ornithology, and anyone who is fascinated by birds. I honestly wish I had this book in my possession when I was writing my picture books, but now I know it will come in handy for my future books.
Bird lovers can purchase this book directly from The McDonald & Woodward Publishing Company's website or from Amazon.
Retailers can purchase this book from The McDonald & Woodward Publishing Company's website.
My Bird Books
Bird is the Word contains descriptions of all the birds found in my picture books: Common Loon, Gambel's Quail, Trumpeter Swan, Great Horned Owl, and Ruby-throated Hummingbird. All my books are discounted to $9.99 each if you buy them from my website. I'll personalize and sign each and every one and mail them to you.