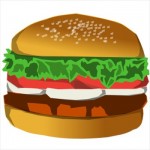 It's been 10 years, since I ate at Burger King. Husband, however, gets a hankering for a Whopper every once in awhile. This comes from a man who eats chicken and fish seven days a week, won't eat sausage, and has low-fat yogurt every morning for breakfast. The last time he had a craving for Burger King, I passed. Today is a new day.
We arrived in Minnesota two days ago. My pantry is bare and I really need to go to the grocery store (and state-run liquor barn), but we have one vehicle, a new diesel truck. Hubby isn't ready to turn the key fob over to wife just yet. I've learned a long time ago to not mess with a man's truck! Around 11:00 a.m. he states that he wants to go to either Burger King or McDonalds for lunch, and he actually asked if I wanted to go along. I considered this my way of entering the vegetable aisle at Central Market, so I agreed, as long as we made a stop at the grocery store. He agreed. He asked me which I preferred, Mickey D's or Booger Palace. Not wanting a flat, tasteless piece of cardboard, I chose the King.
He ordered the Whopper meal deal. Since this will probably be my last visit to BK for another decade, I ordered the bacon burger with cheese, meal deal. It was advertised as having A-1 sauce on it, which was the deciding factor. I went to get my drink, squirt ketchup into five of those little tiny cups, and searched for a clean table. I always have a mixed drink when I go to the fountain, half Diet Coke and half Cherry Coke. The Cherry Coke adds a little flavor to the seltzer fizz that usually comes out of the Diet Coke spout.
I opened the wrapper on my burger and the grease had already saturated the wax paper. It's a good thing I grabbed a handful of napkins (I usually take some home for the dining room table) because I used every one of them. I found two 6-inch diameter beef-by-product patties squeezed to a height of an eighth of an inch, sliding between two minuscule buns. The bacon was barely warm and the processed cheese square hung out one side. As I ate, I searched for the A-1 sauce, but apparently the cook forgot that part of the deal. I kept eyeing husband's Whopper, wishing I hadn't been such a pig and opted for the healthier lettuce, tomato, and special sauce burger.
As I watched the other patrons entering the restaurant, I could tell they ate at Burger King a lot. At least I can still see my feet. Then I started to feel my own belly expand and my stomach object to all the grease it was forced to digest. My veins began to harden, and my legs buckled from the added dose of cholesterol. Quick, give me a statin! I've always been a good girl, however, and eaten everything on my plate, except the French fries. I couldn't choke down any more of those little twigs.
After lunch, we drove by Central Market. It was packed! Cars were lined up down the road to turn into the parking lot. The marquee was flashing, "Mega Meat Sale Today Only." No wonder. We are in carnivore country. Turning right, we headed towards Wal-Mart where we knew we could get bread and milk without having to fight the herds – well, almost. It is Wal-Mart, after all.
With so many delicious pubs around lake country where we live, we have a huge choice of yummy grass-fed, all-beef hamburgers. And we can always wash them down with an ice-cold beer. I love the hamburgers in these pubs, not the factory-made pressed meat of a chain. No more Burger King for me.
Disclaimer, just in case Burger King is reading this: Okay, I admit it, I really enjoyed my Burger King hamburgerJ.