San Diego
Where do Phoenicians go in the summertime? San Diego, of course. Who wouldn't want to trade 110ºF for 70ºF and desert for a view of the ocean? I have a friend who owns a condo on Mission Bay – sailboats, gentle waves, cool breezes – and she begs me to come visit her. No argument there. So, last week I granted her wishes and flew over for a few days of relaxation and wine.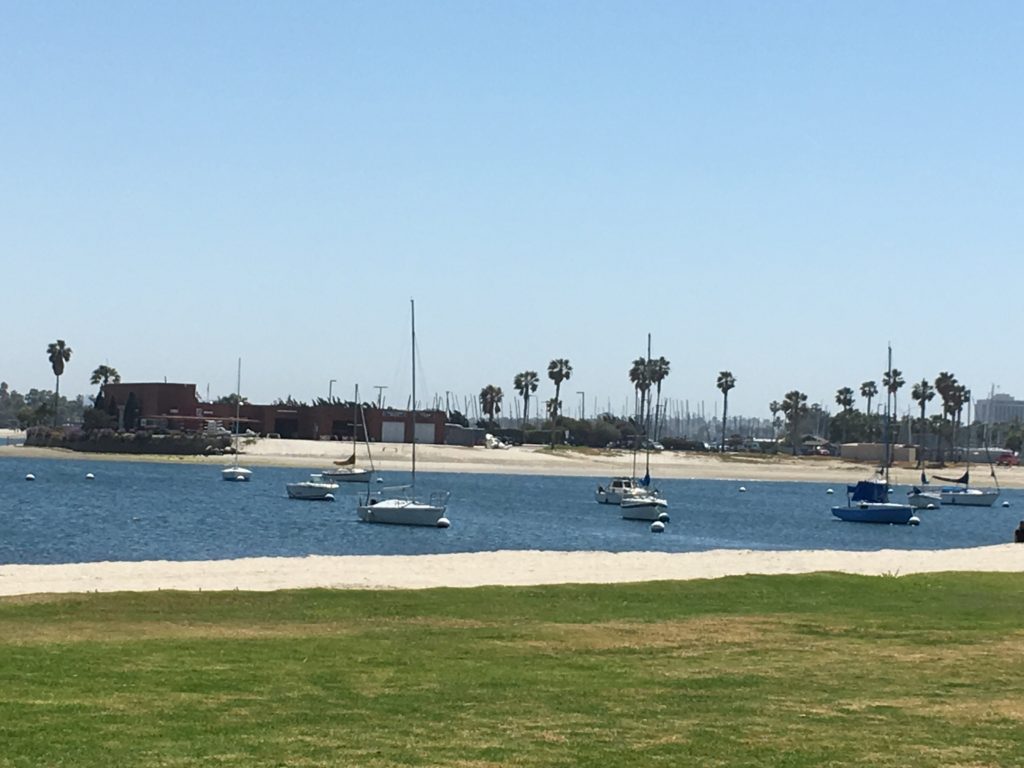 Flies
Before I continue, I've been pondering a mystery for a long time. Where do all the flies live before the food comes out? Really! There's not a fly in site, but as soon as the hors d'oeuvres are served, one will whistle for its friends and family, and they all converge on the picnic. Then the battle begins, my food or the pesky flies.
Boardwalk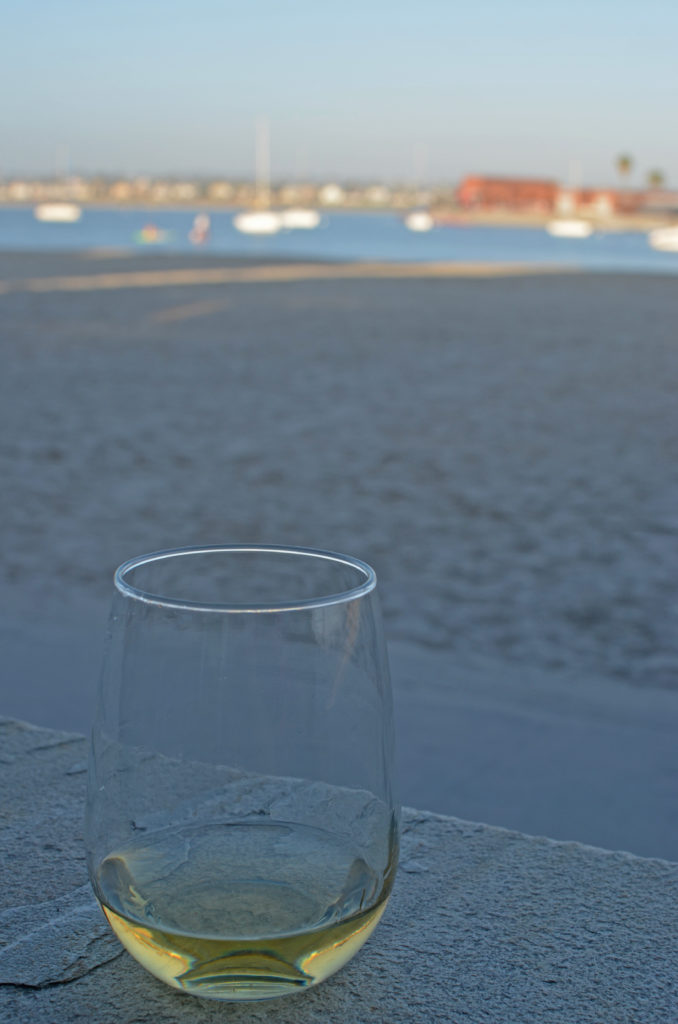 There's a three-foot wall with a mini gate that separates my friend's patio from the Boardwalk where other beach worshipers stroll, walk, jog, bike, skate, Segway by. Half-naked Gen Z-ers, Drunken Millennials, Spacey Gen X-ers, and Balding Boomers, and the occasional pup, parade in front of our patio perch, offering great entertainment to both eyes and ears. Most are very friendly and wave with a "what's up" to "cheers" to "like, I love San Diego, Dude." We raise our goblets in reverence.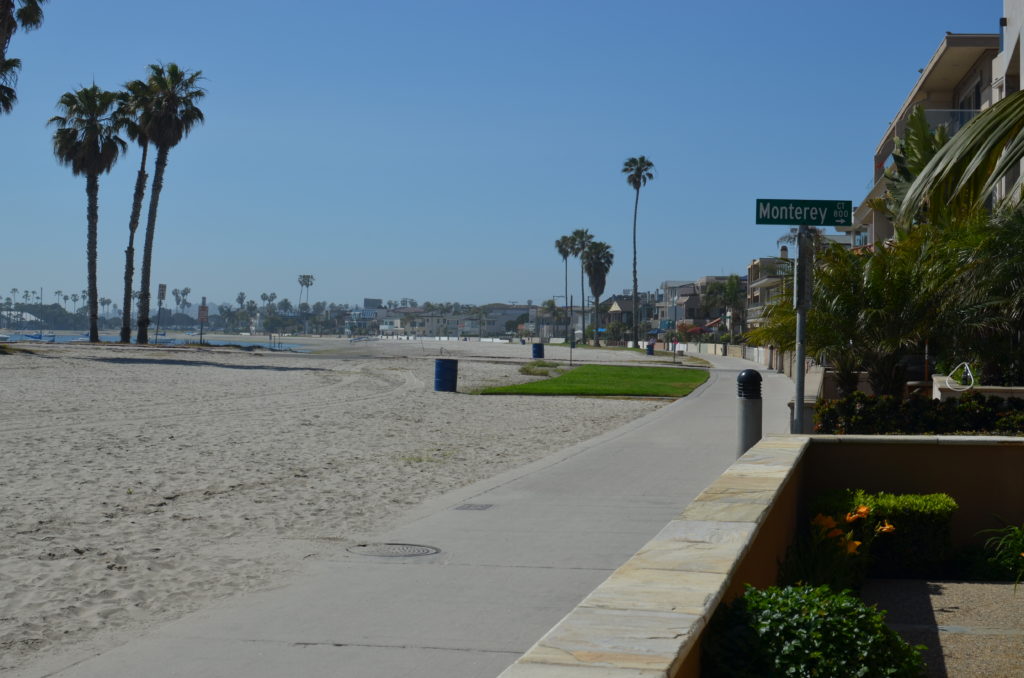 The last time I was in San Diego was for a girls' weekend. Same beach. Same condo. Same patio. Different parade. We wrote 1 – 10 on paddles and rated each character in the Boardwalk pageant. In-line skaters usually received a 10, because, let's face it, we were all beyond our skating days. Walkers earned 5s, at least they're trying, and heck, most of us were walkers too. The snobs who ignored us were awarded 1s, and possibly a few boos.
Boardwalk Snippets
What's better than sitting on the patio watching the Boardwalk Brigade and ranking their struts? Listening to the snippets of conversations. We didn't know what their topics of conversations were about. All we heard were partial sentences. After the girls' weekend, I wrote a story with all the snippets we recorded. You can read it here. This time I thought I'd combine the partial sentences to make a whole conversation. The snippets are in bold and italics; then I embellished with my own imagination.
Valley Girl
Two Valley Girls, are like, talking to each other: She said, "I'm kind of chubby, so there's nothing I want to eat." But then she went over to Sarah's, and you know what they had to eat? Pizza. Then she like changed the subject and told me, "I have a 203." And like I didn't know they made 203s in jumbo sizes, but whatever. So we decided to go over to Sarah's, and she like told us, "And you only shipped 10 of them." I was like confused. Was she talking about the pizza or the 203? And like I told her that I like didn't ship anything.
Anyway, we get to Sarah's house and the pizza was like phenomenal. The toppings were like, it's like iconic cheese. So, Boring Adam was there, and, like, only bananas he doesn't do good, so he ate the pineapple pizza. Yuck. Who eats pineapple pizza, anyway? Everyone knows pineapple doesn't belong on pizza. So he tells me, "That's probably why you're withering away."
(I didn't know what a 203 is, so I Googled it. A 203 can be several different things: Connecticut's area code; a clothing line, probably made in Connecticut; a home renovation loan; a Russian AK rifle; a blue & white capsule-shaped pill. To be safe, I decided to go with the clothing line.)
Boat Saga
Hey, man, did you hear the rumors about Jake? His boat was at the Broken Board Bar for a week. Jake. You remember him. He's the weirdo who drinks Bud Light. I've seen Jake at other bars around town and told him, I understand. You're going into deeper psychological issues. He was offended, but we all know that he's a drunkard and womanizer.
I heard him say one time that he walks by the table and he like leans in and looks and like. The girl at the table puckered her lips and said, maybe you should let me know next time before you start looking down my blouse. Or even if the implants and instruments be separated I'm still glad I got the boob job. But then Jake took a good look at her sun-bleached hair. I looked on her face, it was very stressful. Jake has always been way out of his league. The implant chick stood up and slapped him. She hates him, and she has no problem saying it.
San Diego Rules
Because of all the San Diego building rules, I heard they're doing restoration. But it's hard to know which condo is yours, they all look alike. I think the second one from your house. Oh, you mean the one with the grass? Sort of weird to have a lawn right on the beach. I'll put up a wall and block it off, just like the cabins. Well, that won't work. You've got to put a tree under your pillow or something.
Oh, look, that dog just dumped on the beach. That's why they don't allow dogs 9 to 6. You'd better go pick it up. Like leave me alone. I'll clean that later. But those are the rules. That's not a rule, that's like slavery.
Good Night San Diego
And that, my friends, is life at the beach. Good night San Diego. My San Diego-Condo friend has been at the beach since June and will be coming home to the Phoenix desert inferno soon. Some day I'll write about the beach-front property in Arizona – that will be after the big earthquake hits California and it falls off into the ocean.
Books for Sale
I don't have any San Diego beach books for sale. I write picture books; mostly about birds. You can peruse and order my books here. I'll personalize and sign each book and mail them to you.